IMMA presents War Changes Its Address: The Aleppo Paintings, a new series of work by Irish artist Brian Maguire
10/01/2018
A new series of paintings from Brian Maguire at IMMA

depicts the destruction of Aleppo, Syria and the global effect of war.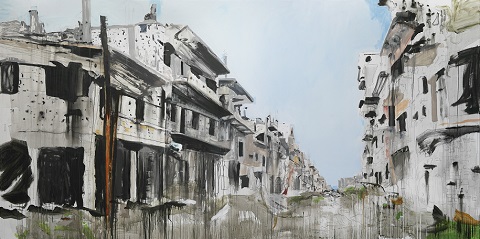 Brian Maguire / Aleppo 4 / 2017 / Acrylic on linen / 200x400cm / Photo: Guy Hassert / Courtesy of the artist and Fergus McCaffrey Gallery

Opening on 26 January 2017, IMMA presents War Changes Its Address: The Aleppo Paintings, a new series of work by Irish artist Brian Maguire. The paintings are a result of Maguire's observations and photographs of the destruction caused by the struggle for control of the eastern and central areas of Aleppo, Syria.
An earlier exhibition, Over Our Heads the Hollow Seas Closed Up, (Kerlin, 2016), examined the refugee crisis then hitting Europe's shores. As reflected in the both exhibitions, Maguire sees the war in Syria and the refugee crisis as being intricately linked. Taken collectively then, these exhibitions bear stark witness to the destruction of a city, and the human displacement caused by such destruction; manifested in the waves of Syrian refugees crossing into Europe.
As with all Maguire's work, this exhibition emerges from a considered engagement with the political and social complexities of place and people. In 2016 Maguire travelled with Paris based artist John Lawler though France Italy, Greece, Macedonia, Serbia, Slovenia, and Austria. Visiting many of the cities across the overland journey from Greece to Germany; a route familiar to so many Syrian refugees. In March 2017 he then travelled to the Syrian cities of Damascus and Aleppo with Colm Laighneach. While in Aleppo Maguire engaged with the remaining local population and was struck by the fact that life there had persevered throughout the war, and in its aftermath was beginning to re-emerge. The research done by Maguire involves more than photography; he also undertook workshops with children affected by the conflict and talked to people living and working there about their experiences of living at war and under siege.
The resulting exhibition includes new, previously unexhibited works. All sharing the title Aleppo, these new paintings are made in a washed-out palette of browns, greys and blues, with the occasional small burst of colour. The uniformity of colour reflects the wiping out of detail and design caused by widespread destruction of the city's architecture, and the seeming total removal of life from these streets. Rather than a vibrant colourful city, one of the oldest in the world, the viewer is left looking at a place that has been stripped of identity, as well as physically destroyed. The paintings call to mind a stage set, empty after the spectacle of war. The occasional small burst of colour speaks to the unquenchable urge for life to continue, even among the most unpromising of settings.
The exhibition title – War Changes Its Address – speaks to the never-ending cycle of war, constantly ongoing somewhere in the world, perpetuated for profit and power, at the expense of communities, countries and human lives. Maguire works partly in Paris, which plays host to a global armament fair in which heavy-duty weapons are presented in the manner of luxury goods; clean, well-designed, desirable. Maguire's concern is that war is perpetuated by the global arms trade, indifferent to the suffering caused by their commerce and industry, the constant victim being the global poor, unrepresented in the media, and unseen by the majority of people in the West.  Fuelled by a desire to see beyond the news coverage to gain a personal insight into the reality of the situation, Maguire's Aleppo paintings document the ruined buildings of the city, offering a visceral and stark insight into the physical consequences of war.
A full programme of talks and associated events will accompany this exhibition and explore the inherent themes in more detail, with contributions from Brian Maguire, Sarah Glennie, Ghiat Ibraheem, Paddy Woodsworth, Colm Laighneach, Ben Stafford, Lara Marlowe, Elisa Perriguer, Ed Vulliamy and many others.
Brian Maguire, War Changes Its Address: The Aleppo Paintings is presented in the Courtyard Galleries at IMMA from 26 January – 6 May 2018. The exhibition is co-curated by Sarah Glennie, Director, NCAD and Rachael Thomas, Senior Curator: Head of Exhibitions, IMMA. Admission is free.
-ENDS –
For more information and images please contact [email protected] + 353 1 612 9920
Associated Events
Artist Conversation / Brian Maguire & Sarah Glennie
Thurs 25 Jan 2018 / 6pm / Johnston Room

Artist Brian Maguire discusses his current IMMA exhibition with Sarah Glennie, Director, NCAD. This talk explores Maguire's research and recent visits to Syria, as it relates to the artist's ongoing interests in social and political situations and approaches painting as a gesture of solidarity. This talk will be followed by the exhibition opening. Tickets are free but limited.  Advance Booking required.
Book online here
Thursday 1 March 2018, 6.30pm, Lecture Room, IMMA, FREE
Seminar / Civil War – Historical & Contemporary Perspectives

Speakers include Giath Taha (Photojournalist, Syria); Paddy Woodworth (Author, Journalist, Irish Times); Colm Laighneach (Member of Hidden Voices, An International Conflict Resolution Body based in Ireland) and others.
Friday 16 March 2018, 1.15pm, Meeting Point – IMMA Main Reception, FREE
Curators Lunchtime Talk Series
Ben Stafford, Exhibitions, IMMA presents a gallery walk through of the exhibition War Changes its Address: The Aleppo Paintings.

Friday 27 April 2018, 2.30pm, Johnston Suite, IMMA, FREE
Seminar / Bearing Witness – Creative & Critical Practice on the Frontline
Speakers include Brian Maguire (Artist); Lara Marlowe (Author, France Correspondent, Journalist, and Irish Times); Elisa Perrigueur (Film maker and Activist, Paris) Ed Vulliamy (Writer, The Guardian & The Observer, UK) and others.
Visit the IMMA Talks section of our website for a detailed public programme of talks, seminars, curatorial responses and blogs that offer a cross discipline of perspectives in association with the exhibition.
About the Artist
Brian Maguire has shown extensively in Europe and the US, participating in shows in Korea, China and Japan. Recent solo exhibitions include Over Our Heads the Hollow Seas Closed Up, Kerlin Gallery, Dublin (2016); J'accuse, The Void, Derry (2015–2016); The Absence of Justice Demands This Act, Fergus McCaffrey, New York (2015); Seed Corn is Not for Harvesting and Other Works, X Espacio de Arte, Mexico City (2013); Femicide/Juarez: paintings by Brian Maguire, European Parliament, Brussels (2012) and Brian Maguire Paintings: 2002–2012, Cultuurcentrum de Werft, Geel, Belgium (2012). In 2000, Inside Out, a major retrospective, toured from Dublin City Gallery, The Hugh Lane to Crawford Art Gallery, Cork and the Contemporary Art Museum, Houston.
Group exhibitions and biennales include : Rhona Hoffman 40 Years, Part 3: Political, Rhona Hoffman Gallery, Chicago, USA (2017); Collection – The Artist as Witness,  Dublin City Gallery The Hugh Lane, Dublin (2016); Ram Foundation, Rotterdam (2016); Conversations, IMMA (Irish Museum of Modern Art) (2014); Return to Sender, WIELS, Brussels (2014);  Remembering Them, Victoria Gallery and Museum, Liverpool University (2013); Changing States : Contemporary Irish Art & Francis Bacon's Studio, BOZAR Palais des Beaux Arts / Paleis voor Schone Kunsten, Brussels (2013); Panchaea: In Search of an Equal Utopia & a Willing Suspension of Disbelief, VISUAL, Carlow (2013);  An Oasis of Horror in a Desert of Boredom, Visual, Carlow (2012); Dublin Contemporary (2011); the 3rd Beijing Biennale (2008); Race-Face, National Gallery of Contemporary Art, Korea (2002); the 24th Sâo Paolo Biennale (1998); A Century of Modern Painting, Hokkaido Museum of Modern Art, Japan (1997).
Maguire's work is held in numerous public collections including the Museum of Fine Art Houston, USA; Irish Museum of Modern Art; Museo de Art de Rio – MAR, Rio de Janeiro, Brazil; Dublin City Gallery The Hugh Lane; Trinity College Dublin; Gemeentemuseum, Den Hague, Netherlands;  Juvasklya Taidemuseum , Finland; Wolverhampton Art Gallery, UK; and Crawford Art Gallery, Cork. Maguire is represented by the Kerlin Gallery, Dublin and the Fergus McCaffrey Gallery, New York and Tokyo.
Supported By