IMMA presents an ambitious new outdoor commission by Navine G. Dossos for its iconic courtyard
19/09/2022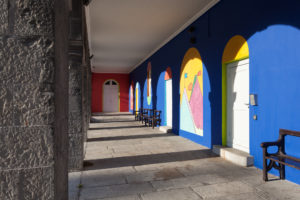 IMMA presents Kind Words Can Never Die, a visually stunning new site-specific installation created by Navine G. Dossos for IMMA's iconic 17th century courtyard. Commissioned as part of IMMA Outdoors, Kind Words Can Never Die transforms the colonnades of the IMMA Courtyard with a vibrant mural wall painting in one of the biggest mural commissions Dossos has created to date.
Kind Words Can Never Die explores new psychological states that have emerged in response to a greater awareness of global and local climate change and was created throughout the month of July through a series of public workshops at IMMA. Inspired by the books Earth Emotions (2019) by Glenn Albrecht, and Thought Forms (1901) by Annie Besant and C.W. Leadbeater, these wall paintings explore how colour can be used to express emotional states, and make images of these complex feelings that can be both negative and positive responses to ecological change.
Annie Fletcher, Director of IMMA, on the significance of this ambitious new commission said "IMMA is delighted to illuminate the colonnades with a new commission by artist Navine G. Dossos. Kind Words Can Never Die is a powerful symbol of our emotional connection to the planet's future in the face of significant climate change. It illustrates a form of collective thinking and emotional registration as we navigate this seemingly unfathomable challenge. This is a significant artwork created for Earth Rising, IMMA's first Eco Art Festival, offering a visual platform to stimulate the open dialogue and creative thinking which IMMA embraces as we develop our environmental programming."
Dossos describes the thinking behind her new commission "One of the major issues of addressing climate change is how we visually represent it. We rely heavily on photographs to evidence the drama of ecological degradation, but also on data-driven charts, informational diagrams and other schematic representations to describe something that is almost intangible in our everyday lives. However, these issues also weigh on us psychologically, and our mental health influences the nature of our response. Kind Words Can Never Die aims to bring together our internal and external worlds, to create a new way to think about the intimate effects of climate change, and to shift our relationship to the planet."
Kind Words Can Never Die was created through a series of public workshops with Dossos while on the IMMA Residency. The contributions from the workshops were gathered and studied by Dossos who used the findings to inform the wall paintings for the IMMA colonnades, creating a collective response to the themes addressed in the workshops. Participants were invited to visualise, in colour, their emotions and responses to themes relating to the environment and climate change. Each person who made a contribution is identified by their first name and a selection of their created colours and emotions in each numbered area on the wall, these include Trish's Motivation, Ellie's Patience and Hanora's Reverence. Dossos has written an in-depth blog on her process of making the work available to read on the IMMA Magazine.
A new IMMA Edition, Kind Words Can Never Die, 2022, created by Dossos is available from the IMMA Shop, Price €350. The edition is the artist's record of every unique colour used in the making of the artwork. All profits made on the sale of this edition will be reinvested into IMMA's ecological programming. For further details and to purchase please visit theimmashop.com
Kind Words Can Never Die is available to view daily in the IMMA Courtyard, admission is free. The installation is presented as part of IMMA's new Eco Art Festival, titled Earth Rising, which takes place over three days from 21 to 23 October 2022. For further information please click here.
19 September 2022
– ENDS –
For further information and images please contact: Monica Cullinane E: m[email protected] Patrice Molloy E: [email protected]
Additional Notes for Editors
Kind Words Can Never Die is available to view in the IMMA Courtyard to July 2023.
Click here to visit the webpage.
About the artist
Navine G. Dossos is a visual artist working between London and Athens. Her interests include Orientalism in the digital realm, geometry as information and decoration, image calibration, and Aniconism in contemporary culture. She has developed a form of geometric abstraction that merges the traditional Aniconism of Islamic art with the algorithmic nature of the interconnected world we live in. This is not the formal abstraction we understand from the western history of art, but something essentially informational, and committed to investigation and communication.
Dossos is a painter and uses this medium and its history to ask fundamental questions about the ways in which we see, understand and represent the world around us. Her work suggests that contrary to the mediatic impulses of the present, we must not rely upon, nor constantly reproduce, the figurative language of television, online media, videos, and the endlessly circulating images which shape our shared imagination of reality. Her work frequently emphasizes the contrast between the timeless and the ephemeral, whether in the painting over of temporary murals, her own effacement of underlying works in ongoing series where each iteration is applied over the last, or her choices of material, from traditional icon boards to cardboard and found wood, and the balancing of classical training and technique with a constant reappraisal and critique of the contemporary.
Workshop Contributors
Karen Aguiar, Hanora Bagnell, James Bridle, Zephyr Bridle, Emmett Cathcart, Paola Catizone, Ciara Denham, Grainne Doyle, Trish Duffe, Thomas Duffy, Carmel Ennis, Rachel Fallon, Cathy Fitzgerald, Annie Fletcher, Monica Flynn, Elizabeth Fuller, Paula Galvin, Éidín Griffin, Marese Hickey, Josee Hodgkinson, Terry Hodgkinson, Alexandra Hoppe, Janice Hough, Mary Hoy, Barbara Keary, Christina Kennedy, Owen Kennedy, Navine G. Dossos, Emilia Krysztofiak, Deirdre Lane, Roxana Manouchehri, Máire O'Higgins, Béibhinn O'Higgins, Sadhbh O'Higgins, Ellie O'Sullivan, Laragh Pittman, Sarah Quinn, Evy Richards, Rosa Roach Arthur, Ruth-Anne Ryan, India Ryan, Jennifer Rylands, Leda Scully, Emma Sheridan, Rachel Sheridan, Maria Vncentelli, Peter Willis and Monika Ziel.
IMMA Outdoors
IMMA Outdoors 2022 explores the environment and what it means to be radically public by creating an inclusive meaningful space for audiences of all ages to enjoy. For more information click here.
Earth Rising
Earth Rising is a vibrant new Eco Art Festival celebrating people, place and planet taking place across the IMMA Campus on 21, 22 and 23 October 2022. For more information click here.