IMMA presents new exhibitions by two highly regarded artists, Jo Baer and Anne Madden
24/08/2023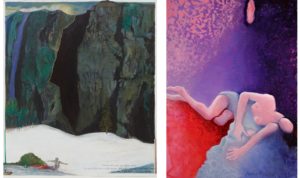 IMMA (Irish Museum of Modern Art) is delighted to launch solo exhibitions by two renowned artists, Jo Baer and Anne Madden, opening today Thursday 24 August 2023. American artist Jo Baer and Irish-Anglo-Chilean artist Anne Madden have both demonstrated an uncompromising commitment to painting as a medium lasting over the past seven decades. These solo presentations, alongside exhibitions by Patricia Hurl and Howardena Pindell, continue IMMA's programming strand that champions the practices of long-established female artists whose relevance and contribution to the contemporary discourse remains as urgent as ever.
The solo exhibition by Jo Baer, Coming Home Late: Jo Baer In the Land of the Giants, brings together a series of recent paintings inspired by the artist's stay in the archaeologically rich countryside of Co. Louth between 1975 and 1982.
Born in 1929, Baer was one of the key figures of the Minimalist painting movement in New York in the 1960s and early 1970s. During this period, she explored the formal aspects of the medium and developed a visual language of non-objectivity in her black and white hard-edge paintings, culminating in her acclaimed solo exhibition at the Whitney Museum of American Art in 1975. That same year, reflecting on Minimalism's failure to respond to the dramatic events of the 1960s, Baer abandoned the style and left New York to become chatelain of Smarmore Castle in Co. Louth. Over the next seven years, her practice gradually shifted towards a 'radical figuration', also known as 'image constellations' that combine figural elements, text, images, and symbols.  
The series of six works completed between 2009 and 2013, presented alongside two additional paintings dating to 2020, was fuelled by Baer's continued research into Irish Neolithic artefacts and myths. They reflect the artist's long-life interest in history and science and trace the convergences and timelines of thought and memory between the ancient and now.   
Seven Paintings by Anne Madden (b.1932) is a series made during the Covid-19 pandemic. It follows a sixty-year international career, during which the artist has produced a powerful and distinctive body of work.  Madden's themes explore the transformative forces and cyclical nature of life and experience.  Ideas of the empyrean, the subterranean and of the emergence from darkness to light have informed all of her work; from her earliest canvases of the glaciated Burren landscape, her series of Megaliths, Monoliths and Doorways from the 1970s, the Elegy, Pompeii, Odyssey and Garden series of the 1990s, and since 2003 atmospheric phenomena such as the Aurora Borealis.   
 Madden's present series continues to excavate the human imprint through themes of death, rebirth, liminality and hubris, and draws on ancient forms and mythologies that give potent shape and expression to the anarchic forces and uncertainties of today.  The paintings reference Antigone, Ariadne and Daphne, archetypal women whose voices are not silenced, in spite of their fate, and who connect with existential, feminist perspectives today.  In their midst is Ann Lovett – a young girl of our time. Death of Ann Lovett (1968-1984), recalls the teenager's tragic death in childbirth in a religious grotto in rural Ireland and the surrounding hypocrisy, silence and the failure of the social system, an event which continues to resonate in Irish society.   
 Coming Home Late: Jo Baer In the Land of the Giants is a co-curation between IMMA and Highlanes Gallery, Drogheda in collaboration with Jo Baer and guest curator and Baer scholar Janine Armin. The exhibition was first shown at Highlanes Gallery from 29 April – 17 June 2023.  
 Coming Home Late: Jo Baer In the Land of the Giants has been made possible with the generous support of Mondriaan Fund and PACE Gallery.  
 Image Credits from Left: Jo Baer, Snow-Laden Primeval (Meditations, on Log Phase and Decline rampant with Flatulent Cows and Carbon Cars), 2020, painting, oil paint on canvas.
Anne Madden / Death of Ann Lovett (1968-1984) / 2020-21, oil on canvas, 150 x 100 cm / IMMA Collection / Donation the Artist, 2022. 
24 August 2023 
– Ends – 
 For further information and images please contact:
Monica Cullinane / [email protected]
Patrice Molloy / [email protected]  
Additional Notes for Editors  
Exhibition Details  
 
Title: Coming Home Late: Jo Baer In the Land of the Giants  
Visit https://imma.ie/whats-on/jo-baer-in-the-land-of-the-giants/  
 
Title: Anne Madden: Seven Paintings  
Visit: https://imma.ie/whats-on/anne-madden-seven-paintings-2/   
Dates: 24 August 2023 – 21 January 2024 
Admission free, book online at imma.ie 
Location: Courtyard Galleries 
Open: Tuesday, Thursday, Friday, Saturday: 10am – 5.30pm. Wednesday: 11.30am – 5.30pm. Sunday: 12noon – 5.30pm. Bank Holiday Mondays: 12noon – 5.30pm  
Curator Talk 
Sunday 27 August, 2 – 3pm \ Drop-in 
Join Christina Kennedy, Senior Curator, Collections, IMMA for a gallery walk-through and discussion on selected works presented in both exhibitions.   
About the Artists   
About Jo Bear 
In the 1960s and 70s, Jo Baer (b. 1929, Seattle, Washington) explored non-objectivity in her black and white hard-edge paintings as part of the New York Minimalist movement. She left New York for Europe in 1975, eventually settling in Amsterdam after years spent in Ireland and London. Through the course of her move to Europe, Baer's work shifted away from pure abstraction, gradually adding figural elements, text, images, and symbols.  
Baer has been the subject of one-artist exhibitions at institutions worldwide at venues including the Whitney Museum of American Art, New York (1975); Van Abbemuseum, Eindhoven, Netherlands (1978, 1986); Stedelijk Museum Amsterdam (1986, 1999, 2013); Dia Center for the Arts, New York (2002); Secession, Vienna (2008); Museum Ludwig, Cologne (2013); Camden Arts Centre, London (2015); MAMCO, Geneva (2022); and Dia | Beacon, NY (2022–26).  
Significant recent group exhibitions include Busan Biennale, Busan Museum of Art, Korea (2012); São Paulo Biennale, Brazil (2014); Selections from the Permanent Collection, Museum of Contemporary Art, Los Angeles (2014); Drawing Dialogues: Selections from the Sol LeWitt Collection, The Drawing Center, New York (2016); Whitney Biennial, Whitney Museum of American Art (2016); Calder to Kelly, Die amerikanische Sammlung, Kunstmuseum Winterthur, Switzerland (2017); The Absent Museum, WIELS, Brussels (2017); and Making Space: Women Artists and Postwar Abstraction, Museum of Modern Art, New York (2017).  
Her works are part of numerous public collections, including those of the Museum of Modern Art, New York; Tate Gallery, London; and Museum für Moderne Kunst, Frankfurt am Main.  
About Anne Madden   
Anne Madden (b. 1932, London, UK) spent her first years in Chile. Her family moved to Europe when she was four and lived in Ireland and London. She attended the Chelsea School of Arts and Crafts. In 1958 she married the Irish painter Louis le Brocquy. Madden's work, abstract at first glance, but generally with a figurative element, regularly carries references to her Irish background as well as reflecting on life and death.   
Madden's works from the 1960s on are inspired by the glaciated landscape of the Burren, pre-historic landscape, notions of the empyrean and the subterranean, astronomy and megalithic structures. While another aspect of her practice during this time responded to the conflict in Northern Ireland.    
 From the 1990s, Madden's works reflected ancient Mediterranean civilizations in series such as Pompeii, Oddessy and Garden that draw on themes of death, rebirth, liminality, hubris and human imprint.    
 Since the 2000s she has responded to climate, weather patterns, the Aurora Borealis and the effects of the Anthropocene as well as existential, feminist perspectives through ancient cycles.    
 Madden has exhibited widely, including a significant retrospective at IMMA in 2007. She is a member of Aosdána and is represented by Taylor Galleries, Dublin.