IMMA presents Influence and Identity Twentieth Century Portrait Photography from the Bank of America Collection
02/05/2023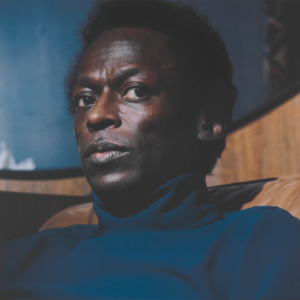 IMMA (Irish Museum of Modern Art) is delighted to present Influence and Identity, a major exhibition of Twentieth Century Portrait Photography from the Bank of America Collection opening on Friday 26 May 2023, in partnership with Bank of America. This extensive exhibition features the works of international photographers from the early through to the mid-twentieth century, a period often called the golden age of portrait photography.
Influence and Identity comprises 83 artworks by master portraitists such as Antony Armstrong-Jones, Richard Avedon, Yousuf Karsh and Gisèle Freund, as well as renowned photographers Berenice Abbott, Imogen Cunningham, Garry Winogrand and Brassaï. This exhibition has been loaned through the Bank of America Art in our Communities® programme.
Using photography, a medium born of the modern era, these artists produced images that capture the commanding personalities of celebrated figures in popular culture, politics and the arts. Throughout history, the intent of portraiture has been to capture an individual's likeness and personality. An important tool for social documentation, portraiture is a form of historical record, marking a person's image and significance in a specific time and place, as well as the unique viewpoint of the artist who created it.
Commenting on the exhibition, Annie Fletcher, IMMA Director said; "We are delighted to host Influence and Identity at IMMA this Summer. IMMA and Bank of America are aligned in a desire to make the arts accessible to all, and this exhibition partnership reflects our shared goal. This promises to be a remarkable collection exhibition that not only showcases a selection of world-class photographers from the 20th century, but also pays homage to some of the most recognisable activists, politicians, changemakers and creatives of our time." 
Commenting on the exhibition, Fernando Vicario, CEO of Bank of America Europe DAC, and Country Executive for Ireland, said "At Bank of America, we believe in the fundamental power of the arts to bring people together, to enrich societies and to create greater cultural understanding. We are delighted to partner with IMMA to bring Influence and Identity to the people of Ireland. This is the first time Influence and Identity will be displayed outside the United States and we are proud that our partnership will provide access to this inspirational collection to even broader audiences."
The many motivations in capturing the likeness of another person may include official state purposes, the remembrance of a loved one or religious veneration, or simply a commission by the influential and powerful to mark their status. Similarly, styles of portraiture and the messages contained within have evolved over time in every manner imaginable. A portrait exists far beyond the moment it was created, often beyond the lifetime of the sitter, allowing the subject to engage with viewers for generations to come. The photographic portraits featured in this exhibition reveal a wide variety of styles, viewpoints and themes, each photographer bringing his or her subjective interpretation to each image. Influence and Identity is a reflection of the photographers and their noteworthy subjects that have come to define the photographic portraiture of a recent era. Many of the subjects included in the exhibition are notable figures from culture and politics, such as Elizabeth Taylor, Miles Davis, Virginia Woolf, James Joyce, Tecumseh Deerfoot Cook, Winston Churchill and Richard Nixon.
2 May 2023
– ENDS –
For further information and images please contact:
Patrice Molloy | [email protected]
Monica Cullinane | [email protected]
Pat Walsh | [email protected]
Additional Notes for Editors
Exhibition Details
Title: Influence and Identity: Twentieth Century Portrait Photography from the Bank of America Collection
Exhibition Dates: 26 May – 8 October 2023
Admission free, book online at imma.ie
Open: Tuesday, Thursday, Friday, Saturday: 10am – 5.30pm. Wednesday: 11.30am – 5.30pm. Sunday: 12noon – 5.30pm. Bank Holiday Mondays: 12noon – 5.30pm
IMMA Talks
A public Talks programme accompanies the exhibition. For details visit imma.ie
Engagement & Learning Programmes
A full Engagement & Learning Programme for all ages takes place to accompany the exhibition.
List of Artists
Edward Steichen, Man Ray (Emmanuel Radnitzky), Alvin Langdon Coburn, Yousuf Karsh, Richard Avedon, Brassaï (Gyula Halász), Arnold Newman, Pepe Diniz, Philippe Halsman, Lee Friedlander, Arnold Newman, Josef Breitenbach, Shigeo Anzaï, Berenice Abbott, Antony Armstrong-Jones, First Earl of Snowdon, Carolyn DeMeritt, Marc PoKempner, Ernest C. Withers, Arnold Crane, André Kertész, Imogen Cunningham, Peter Hujar, Gertrude Käsebier, Gisèle Freund, Henri Cartier-Bresson, Inge Morath, Robert H. Cumming, Garry Winogrand, Barbara Bloom and Judith Golden.
About Bank of America
At Bank of America, we're guided by a common purpose to help make financial lives better, through the power of every connection. We're delivering on this through responsible growth with a focus on our environmental, social and governance (ESG) leadership. ESG is embedded across our eight lines of business and reflects how we help fuel the global economy, build trust and credibility, and represent a company that people want to work for, invest in and do business with. It's demonstrated in the inclusive and supportive workplace we create for our employees, the responsible products and services we offer our clients, and the impact we make around the world in helping local economies thrive. An important part of this work is forming strong partnerships with nonprofits and advocacy groups, such as community, consumer, and environmental organisations, to bring together our collective networks and expertise to achieve greater impact. Learn more at about.bankofamerica.com, and connect with us on Twitter (@BofA_News).
For more Bank of America news, including dividend announcements and other important information, register for email news alerts.
IMMA Collection Work in Focus: Kevin Atherton, In Two Minds
Running concurrently in the Garden Galleries is Kevin Atherton's In Two Minds, 1978, which is presented here as a work in focus from IMMA's Collection. In this two-screen video installation, Atherton converses with himself about the nature of the gallery space, the art object, the viewer, and critically the role of the artist and subject. In Two Minds first began in 1978 when the artist originally recorded this piece. Since then, Atherton has 're-entered' his work to face fresh interrogation by and of himself as artist and subject, thereby generating updated versions of the work and giving the viewer a sense of a changed world and subject. The version IMMA presents here from the Collection, was filmed in 2014 when Atherton updated the work for an exhibition at IMMA. Like some of the works in Influence and Identity, a sense of scrutiny and framing prevails in this work, albeit with great humour and self-reflection.
Kevin Atherton (b. 1950, Isle of Man) is an artist who works with performance and new media in sculptural contexts. A retired fine art educator, his is a time-based practice with an ongoing interest in the relationship between the real and the fictional. Since the 1980s he has created many large scale public sculptural commissions. He was Head of the Department of Postgraduate Pathways in the Faculty of Fine Art in NCAD, Dublin and as such has influenced a whole generation of young artists.