IMMA presents Championing Irish Art, an exhibition from the Mary and Alan Hobart Collection
06/04/2023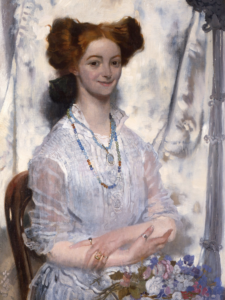 IMMA (Irish Museum of Modern Art) is pleased to present Championing Irish Art: The Mary and Alan Hobart Collection, an exhibition dedicated to the Pyms Gallery opening on Saturday 8 April 2023, featuring the work of prominent Irish artists including Jack B. Yeats, John Lavery, William Orpen and Mary Swanzy. The exhibition explores the role Mary and Alan Hobart played in establishing a new canon of Irish art, alongside the political risks taken by the Pyms Gallery in promoting Irish art in the midst of the turbulence of the 1980s and against the backdrop of The Troubles.
The Pyms Gallery was set up in 1974 by Mary Hobart from County Monaghan and her Devon-born husband, the late Alan Hobart. From their premises in Belgravia and Mayfair in London, they mounted a series of pioneering exhibitions which championed Irish art in Britain for the first time since Sir Hugh Lane at the very beginning of the twentieth century. Their shows in the 1980s and '90s, including The Irish Revival, Celtic Splendour, Irish Renascence and An Ireland…Imagined, in effect made the market for Irish art, especially of the early twentieth century when it was little regarded at home and unknown internationally. Many of the paintings in these early shows are now in public collections, but others were retained by the Hobarts for their own collection, and are now on show in this exhibition for the first time in many years.
Championing Irish Art focuses on Irish artists who have been presented in solo or group exhibitions at IMMA, including Mary Swanzy, William Crozier, Jack B. Yeats, and Cecil King; all of whom had also been included in early exhibitions at Pyms. The exhibition begins at the moment of the First World War, with images that record wartime experiences as well as portraits of the 'everyman soldier', alongside moments of rebellion and resistance. It places Mary Swanzy in dialogue with Jack B. Yeats, considering how their individual and idiosyncratic interpretations of Modernism pose productive questions. It moves through the hard-edged abstractions of the 1960s and '70s in the work of Micheal Farrell, Cecil King, and Charles Tyrrell; before ending with works made in response to the conflict in Northern Ireland by William Crozier, Rita Duffy, and F.E. McWilliam.
This exhibition is drawn from their personal holdings and very much reflects the tastes and beliefs of the Hobarts. Mary had grown up in one of the border counties and was aware of sectarian tensions from a young age. Similarly, Alan was raised in the shadow of the Second World War. Consequently, both developed strong anti-war positions and the works they personally collected illustrate such political subject matter – a key example being the series of First World War paintings by William Orpen that unflinchingly depict wartime life.
For almost half a century Mary and Alan Hobart acted as influential taste-formers and deal-makers advising public and private collectors and exhibiting and trading in Irish art. In line with current international interest in the role of the dealers and galleries in how art is created, curated and collected, this exhibition explores the Pyms Gallery's crucial role in the development of an interest in, and market for, Irish art.
The exhibition will be accompanied by a fully illustrated publication with newly commissioned research by William Laffan, art historian, editor and curator, and an afterword by Kenneth McConkey, author and Professor of Art History at the University of Northumbria. Price €15.
3 April 2023
– ENDS –
For further information and images please contact: Monica Cullinane | [email protected]  Patrice Molloy | [email protected]
Additional Notes for Editors

Exhibition Details
Title: Championing Irish Art: The Mary and Alan Hobart Collection
Exhibition Dates: 8 April – 23 July 2023
Admission free, book online at imma.ie
Open: Tuesday, Thursday, Friday, Saturday: 10am – 5.30pm. Wednesday: 11.30am – 5.30pm. Sunday: 12noon – 5.30pm. Bank Holiday Mondays: 12noon – 5.30pm
Webpage: https://imma.ie/whats-on/pyms-championing-irish-art/
Curators Lunchtime Talk
Friday 14 April at 1.15pm / Drop-in, no booking required / Meeting point main reception
Join curator of Championing Irish Art, Seán Kissane, Curator: Exhibitions, IMMA, for a gallery tour of the exhibition.
List of Artists
Jack B. Yeats. William Crozier, Rita Duffy, Micheal Farrell, Grace Henry, Cecil King, John Lavery, F. E. McWilliam, William Orpen, William Scott, Mary Swanzy and Charles Tyrrell.