IMMA launches major new private fundraising initiative to support contemporary art in Ireland after years of devastating cuts
13/04/2016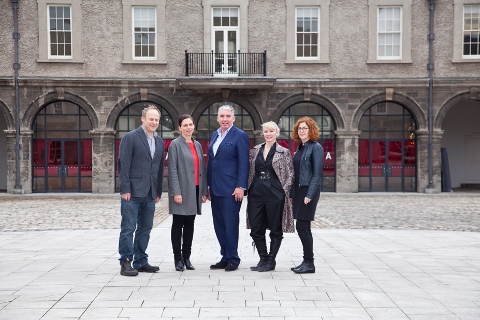 Gerard Byrne, artist, Sarah Glennie, Director, John Cunningham, IMMA 1000 founder, Jesse Jones, artist and Grace Weir, artist at the IMMA 1000 launch.
IMMA, the Irish Museum of Modern Art, today launched a new fund designed to support the future of contemporary art in Ireland – IMMA 1000. A reaction to the devastating cuts experienced by the Arts sector in recent years IMMA 1000 is initially a three year fundraising programme 2016 – 2018. The fund launches with €60,000 which IMMA plans to double in year one through donations of €1,000 each from 60 visionary individuals.
IMMA Director Sarah Glennie said; "IMMA 1000 is a new fund specifically created to support our work with Irish artists in the drastically altered social and economic environment we find ourselves in today. Severe cuts in arts funding since 2008 have had a devastating effect on supports available directly to contemporary artists, and as a result artists simply cannot afford to live and work in Ireland, creating a huge concern for the future of Irish art, and contemporary Irish culture."
"Artists tell us about ourselves, they challenge us; they create space for difference, debate and imagination. Their voice is an essential part of a vibrant and dynamic society and it is essential that we value artists and create a sustainable base for them in Ireland. With IMMA 1000 we want to create a support infrastructure for working Irish artists today, securing the ecosystem for the future."
IMMA 1000 will do this in three key ways;
– Supporting artists to live and work in Ireland through bursaries and the IMMA residency programme.
– Supporting artists' income through commissions and exhibitions.
– Supporting artists' work through the purchasing of work for the IMMA Collection.
IMMA has been supported in this initiative by Goodbody as the exclusive corporate founding partner for IMMA 1000. As Ireland's longest established stockbroking firm, Goodbody understands the importance of creating a legacy today for future generations. That's why it has made a firm commitment to contribute significant funds to this important initiative over three years.
"Goodbody has high regard for IMMA and the work it does. We believe artists deserve a secure place in Irish society," said Roy Barrett, Goodbody Managing Director. "Goodbody wants to help to build and sustain the cultural institutions that make art viable in Ireland. IMMA 1000 is a project of real ambition that we are honoured to support."
IMMA 1000 was conceived on behalf of IMMA by businessman John Cunningham, Director CheckRisk, who responded to a talk by IMMA Director Sarah Glennie to a group of business leaders in 2014. He was struck by the critical difficulties, outlined by Sarah, facing artists in Ireland following the economic crisis. John, together with a group of founding donors, has already raised €20,000 for the initiative creating, with Goodbody, a founding fund of €60,000 in year one.
"In the business world we frequently hear concerns about 'brain drain' in Ireland; where the most talented and promising graduates and young leaders are leaving the country due to the economic crises, creating a void in the future ecosystem. We should be equally alarmed about the hundreds of artists who are no longer able to live and work in Ireland. Artists are crucial in forming and communicating our valuable cultural identity, a vital asset to Irish business abroad and a vital need for Irish people at home. We have to do something tangible to create the future we want for our country, and I want a future with Irish art, something we can achieve together through IMMA 1000."
Speaking at the launch, leading Irish artist Gerard Byrne, also an IMMA Board member, said;
 
"As an artist working in Ireland for the last twenty years I've seen first-hand how critical it is that our arts institutions are enabled to support artists' ongoing practice and the making and collecting of their work. Artists have a significant contribution to make to a country's wellbeing and as an artist working internationally it is very clear to me the benefits to a society where artists are valued. We must value our artists and IMMA must be enabled to invest in their future by investing in the present. Simply put, IMMA 1000 can support this investment."
Why Now?
Substantial cuts in arts funding since 2008 have had a devastating effect on supports available directly to contemporary artists. Arts organisations such as IMMA have also seen cuts of close to 50% in their government funding resulting in fewer acquisitions for public collections, fewer commissions of new work and reduced artist fees.
Overall these combined cuts create an overwhelming reduction in the funding that institutions such as IMMA can use to directly support artists. The commercial art market in Ireland also faces considerable challenges. As organisations slowly start to rebuild after years of successive cuts it is essential that IMMA is able to actively support Irish artists so that Ireland will remain a viable place for them to live and work into the future. If not, the effect of their loss will be felt for generations to come.
Find out more about IMMA 1000 here.
-ENDS –
For more information and images please contact [email protected] or [email protected] 01 612 9920
Additional Information
IMMA (Irish Museum of Modern Art) is Ireland's national institution of contemporary and modern art. Based in its home at the Royal Hospital Kilmainham, IMMA is celebrated for its vibrant and dynamic exhibition and education programmes.
IMMA is the home of the national collection of modern and contemporary art. Now numbering over 3,500 works, we ensure that this collection is accessible to visitors to IMMA and beyond, through exhibitions, collaborations, loans, touring partnerships and digital programmes. Visited by over 475,000 people in 2015, IMMA is one of Ireland's leading cultural institutions and a key source of creativity and inspiration for visitors of all walks of life. One out of every eight IMMA visitors experiences visual art for the first time through their IMMA visit and it is hugely important to us to create an enjoyable and engaging experience of contemporary art for everyone. We are driven to inspire a curiosity and appreciation of Irish contemporary art amongst our audience and the wider Irish public.
Above all else we are committed to supporting artists' work. Together with artists and other partners we work to support the development, understanding and enjoyment of contemporary art in Ireland. As Ireland's contemporary visual artists continue to strengthen their work is increasingly recognised on the international stage as well as making an invaluable contribution to contemporary Irish society. Artists are a key voice in any contemporary society and IMMA is committed to supporting Irish artists' ability to live and work in Ireland.
Related Bios
John Cunningham
John Cunningham has been in business for over 30 years holding senior positions in Irish Permanent, Friends First, Ross Bank, Zurich Bank and Alexander Mann Solutions. He is currently a Director of CheckRisk and is consulting to a wide range of organisations. He is a graduate of the Marketing Institute, Smurfit Graduate School and Insead. He is Chair of the Immigrant Council of Ireland, Director of The Irish Youth Foundation. He is Chair of the judging panel for the CSR awards for Chambers Ireland. John has interests in travel and collecting art.
Gerard Byrne
Gerard Byrne (b. Dublin 1969) is a visual artist working with photographic, video, and live art. In 2007 he represented Ireland at the 52nd Venice Biennale. He has also participated in dOCUMENTA 13, Kassel, 2012; Performa, New York (2011); the 54th Venice Biennale (2011); Auckland Biennial (2010); Gwangju Biennial (2008); Sydney Biennial (2008); Lyon Biennial (2007); Tate Triennial (2006); and the Istanbul Biennale (2003). Solo exhibitions of his work include Kunstmuseum St. Gallen, St. Gallen (2014); The Whitechapel Gallery, London (2013); Fundação Calouste Gulbenkian, Lisbon (2012); IMMA, Dublin (2011); Milton Keynes Gallery (2011); The Renaissance Society, Chicago (2011); Lismore Castle Arts, Ireland (2010); The Common Guild, Glasgow (2010); Lisson Gallery, London (2009); ICA Boston (2008); Statens Museum for Kunst, Copenhagen (2008); Dusseldorf Kunstverein (2007); Contemporary Art Centre, Vilnius (2007); MUMOK, Vienna (2006); BAK, Utrecht (2004); Frankfurter Kunstverein (2003) and the Douglas Hyde Gallery, Dublin (2002). In 2006 he was a recipient of the Paul Hamlyn award. He is represented in London by Lisson Gallery and in Stockholm by Galerie Nordenhake.
Grace Weir
Grace Weir represented Ireland at the 49th International Venice Biennale and has exhibited widely nationally and internationally. She is currently Artist-in-Residence in the School Of Physics, Trinity College Dublin. As part of the IMMA Collection her film work Dust Defying Gravity, 2003, has been shown since its purchase in 2004 in many group exhibitions and beyond IMMA in venues across the country.
Working primarily in the moving image, Grace Weir makes a critical appraisal of film through film-making, in a practice that fuses documentation with highly authored situations. Weir probes the nature of a fixed identity and these questions are underpinned by the theories under her scrutiny, whether it is relativity, intentionality, film theory, the duality of light or the philosophy of time and history. She is interested in issues that are not unspecified because something is missing but because of their nature and content. Weir is interested in the slippages between the conceptual and experiential in different fields of enquiry. She examines how the imperfect world of direct experience plays a role in our understanding of theoretical concepts. Researching facts not as self-evident objects in the world but as processes, Weir takes a transdisciplinary approach in her research. The resulting work is wide ranging, from structural cinematic works to 'footnote' videos, web projects and installations. 
Jesse Jones
Jesse Jones (b. Dublin 1978) has been selected to represent Ireland at the 57th Venice Biennale in 2017 and an exhibition of her work No More Fun and Games is currently showing at the Dublin City Gallery, The Hugh Lane, until June 2016. She completed an MA in visual arts practice at DLIADT in 2005 and has worked and exhibited extensively at home and abroad.
Jones's practice reflects and re-presents historical moments of collective resistance and dissent. In her films and videos she explores the gesture of the revolutionary action, and finds resonance in our current social and political landscape. Jones's work takes many forms; from gallery based film and installation to large scale public events. She has collaborated with diverse groups; from opera singers and marching bands to activists, in a practice which aims to excavate the hidden meaning within our popular collective consciousness. She has completed a fellowship in Location One New York.
She has had a solo show in REDCAT Los Angeles (2011), and work commissioned for Collective Gallery in the UK.
She has shown internationally at the 9th Instanbul Biennial and Nought to Sixty at the ICA (2008). Her recent exhibitions include Artsonje centre Seoul (2013).