IMMA launches 'IMMA HORIZONS'  A new initiative aimed at supporting health and wellbeing through creative programmes  
14/06/2023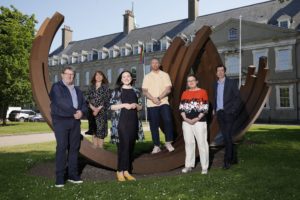 A new initiative aimed at supporting health and wellbeing through creative programmes and experiences called, IMMA Horizons: Lifelong Creativity for the Curious, was launched today (Wednesday 14 June 2023) at IMMA (Irish Museum of Modern Art). IMMA Horizons will contribute to new thinking on how creativity can positively impact wellbeing through advocacy, partnerships and programming that offers opportunities to connect and be curious.
IMMA Horizons provides free creative experiences and events for adults to meet and explore art together at a relaxed pace. Its focus will be on participants in older age and those who are in a transitional time in their lives (moving into or out of a caring role within a family, changing job, experiencing job loss), but is open to all adults. Most importantly it is an enjoyable and fun sociable experience, delivered in a supportive environment that encourages participation by all.
The programme includes a new summer series of sensory themed workshops, In The Moment with IMMA Horizons, exploring art, place and wellness in the grounds of IMMA. Talking Art with IMMA invites participants to take a close look at artworks from the IMMA Collection and discuss exhibitions together, delivered monthly in the galleries and online for those who cannot attend the Museum. Talking Art with IMMA Conversation Starter Packs highlight selected artworks from the IMMA Collection to guide conversations which can be followed with friends and family or used by Activity Coordinators within nursing home or other residential settings. The Slow Art video series offers an enjoyable guided exploration of IMMA Collection artworks and includes a short warm-up, A Moment of Mindfulness, to help you relax and get into the right frame of mind for your virtual visit.
Speaking at the launch Sheena Barrett, IMMA's Head of Research & Learning said; "I'm so delighted we are launching IMMA Horizons which builds on IMMA's long history of innovative education and learning programmes to develop a range of experiences that support people at times of transition in their lives. Art has an incredible ability to help us to be curious, to connect to others and keep our minds active in a safe and welcoming environment. IMMA Horizons is designed to create really special moments that support people to be brave, inquisitive and creative as adults."  
Curator of IMMA Horizons, Bairbre-Ann Harkin said; "Extensive research has identified a major role for the arts in the promotion of wellbeing across the lifespan. IMMA Horizons will contribute to new research and ongoing conversations both in Ireland and globally, advocating for the arts and creativity to be recognised as an important contributor to a rich quality of life."  
A panel discussion took place as part of the launch with Maser, Visual Artist and mental health advocate; Mike Hanrahan, Singer Songwriter and Global Brain Health Institute Fellow; Jackie Golden, IMMA Horizons participant and Dementia Carers Campaign Network member; Dr Kevin McCarroll BA MD MRCPI, Director of Creative Life, MISA and Consultant Geriatrician & Physician; Sheena Barrett, Head of Research & Learning, IMMA, and Bairbre-Ann Harkin, Curator of IMMA Horizons. The discussion explored creativity and wellness from an artistic, academic and health perspective, reflecting how IMMA Horizons straddles all three disciplines.
IMMA Horizons builds on the success of IMMA's established Art & Ageing programme including the highly praised Azure programme. Azure offers online and in-person Museum experiences designed to support people living with dementia and their family, friends or carers, to engage with artworks. The launch of IMMA Horizons is built on the strong foundations of IMMA's existing Art & Ageing partnerships including MISA Creative Life at St James Hospital, the Azure Network, Age & Opportunity, the Alzheimer Society of Ireland and HSE Understand Together as well as new collaborators including the Global Brain Health Institute and Arts & Health Coordinators Ireland.
14 June 2023  
 
– ENDS –  
 
Contact: For further information and images please contact:  
Monica Cullinane E: [email protected]  
Patrice Molloy E: [email protected]   
Additional Notes for Editors   
Further details on the IMMA Horizons programme can be found at https://imma.ie/learn-engage/imma-horizons/
Further Research: 
W.H.O Report: What is the evidence on the role of the arts in improving health and well-being? A scoping review - culturehealthandwellbeing.org.uk pdf  
Over the past two decades, there has been a major increase in research into the effects of the arts on health and well-being, alongside developments in practice and policy activities in different countries across the WHO European Region and further afield. This report synthesizes the global evidence on the role of the arts in improving health and well-being, with a specific focus on the WHO European Region. Results from over 3000 studies identified a major role for the arts in the prevention of ill health, promotion of health, and management and treatment of illness across the lifespan. The reviewed evidence included study designs such as uncontrolled pilot studies, case studies, small-scale cross-sectional surveys, nationally representative longitudinal cohort studies, community-wide ethnographies and randomized controlled trials from diverse disciplines. The beneficial impact of the arts could be furthered through acknowledging and acting on the growing evidence base; promoting arts engagement at the individual, local and national levels; and supporting cross-sectoral collaboration – Fancourt D, Finn S. What is the evidence on the role of the arts in improving health and well-being? A scoping review. Copenhagen: WHO Regional Office for Europe; 2019 (Health Evidence Network (HEN) synthesis report 67).
TILDA Report (Wave 6) Creative Activity in the Ageing Population 
Regius Professor Rose Anne Kenny, Principal Investigator of TILDA (The Irish Longitudinal Study on Ageing): "After more than a decade of extensive research, TILDA possesses an exceptional and valuable dataset that unveils significant facets of successful ageing. This new report from TILDA, in collaboration with Creative Ireland, examines the relationships between participation in these activities and various aspects of physical, mental, and behavioural health, as well as exploring the long-term advantages of such engagement, expanding upon the findings of previous work. Moreover, it delves into the realm of engagement, motivations, and barriers to participation in creative activities.
Notably, the data collection period was during the COVID-19 pandemic, a time marked by public health measures that imposed restrictions on social gatherings, events, transportation, and the operation of cultural venues in Ireland, so these findings hold immense importance. To foster greater involvement of older adults in creative pursuits, it is essential to establish policies that facilitate their participation while eliminating accessibility barriers, regardless of disability. Such measures have the potential to enhance the health and well-being of a rapidly expanding ageing population."
Testimonials:  
 
IMMA Horizons Participants:  
"Getting us out doing things, doing things we maybe should be doing anyway, but…it gives you a push."  
 
"I enjoyed it immensely. It was enlightening – you have to examine and look closely. It takes the cobwebs off the brain, it sharpens you up."  
 
"Ah, it was a wonderful experience, a wonderful experience…You'd be sad when you come to the end of it…"  
 
"I enjoyed it very much, very much indeed. I felt very much part of what was going on. And I wanted to be part of it."   
 
"You are opening up the world to us."  
Participant in Talking Art with IMMA online:  
"I very much enjoyed today's Talking Art conversation and really appreciate the care taken by the IMMA facilitators – I can't make it to Dublin at the moment because of my health, so these online conversations mean so much."   
Participant in Talking Art with IMMA in-person:
"Thanks again for a great morning – the facilitation was excellent, everyone was put at ease and made to feel really welcome. The pace was relaxing but I left feeling energised!"  
Nursing Home participant:   
"Bairbre-Ann and her team have been kind enough to provide our Nursing Home with guided Azure tours of IMMA which are specifically designed for people living with dementia, their professionalism shines through in the experience they provide. The guides have a good understanding of dementia, their communication and active listening skills are excellent, and they ensure everyone is included. They run the tour at a pace that suits everyone, so no one feels rushed or overwhelmed. Our residents really enjoyed it and have all returned to the nursing home in great form and many have talked about it for weeks later. The staff in the nursing home was amazed with the transformation in one resident who would normally hardly touch her dinner, they said she appeared very happy and content on returning and cleaned her plate at dinner time. Many thanks to all involved, please keep up the good work."