IMMA Announces Annie Fletcher as New Director of the Museum
15/11/2018
A noted international curator, Annie Fletcher has extensive leadership experience in the contemporary arts. In addition to her role as Chief Curator at Van Abbemuseum she is a tutor at de Appel, Amsterdam, the Dutch Art Institute (DAI) and the Design Academy Eindhoven, and regularly worked with art institutions around the world including the SALT Istanbul, New Museum, New York, and L'Internationale network and De Appel Art Centre, Amsterdam. In 2012 she was Curator of Ireland's Contemporary Art biennale EVA International and is regularly called upon to sit on major International juries, including the Turner Prize in 2014 and the selection committee for the Irish Pavilion at Venice in 2016.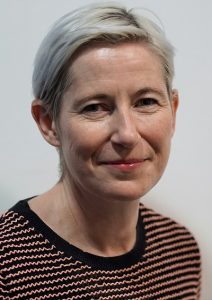 Minister Josepha Madigan welcomed her appointment commenting; "Ms Fletcher brings great experience and dynamism to this important role. In addition to her work as Chief Curator of the Van Abbemuseum in the Netherlands, she has worked with numerous cultural institutions in Ireland and across the world. Her passion for contemporary art and how it can resonate with the public will, I have no doubt, enable the Irish Museum of Modern Art to grow its footprint and impact both in Ireland and internationally. Her extensive domestic and international experience indicates that she will be well equipped to undertake this challenging and rewarding role."
Born in Ireland Fletcher studied in Trinity College Dublin and started her career in the Douglas Hyde Gallery in 1994. She was Acting Head of Exhibitions in IMMA in 2001-2002 where she produced, among other projects, the seminal performance art weekend Marking the Territory. Curated by Marina Abramovic this three day event attracted capacity audiences to the museum. She partnered with IMMA, and then Director Sarah Glennie, on several exhibitions over the past five years, including solo presentations of Duncan Campbell and Sheela Gowda and most recently co-curated the 2016 IMMA group exhibition El Lissitzky: the Artist and the State with work from Rosella Biscotti, Nuria Guell, Alice Milligan, Sarah Pierce and Hito Steyerl, and is very much looking forward to returning to IMMA to lead the museum into its next phase. As a curator she is particular interested in how an encounter with art can generate a shared civic space and how, in today's world, contemporary art can address complex ideas of time, space and participation in order to achieve resonance with the public.
IMMA Chairman David Harvey commented; "The Board of IMMA undertook a robust recruitment exercise and we are delighted that Annie has emerged from a strong international field of exceptional candidates as the new Director of the museum. Annie is a highly respected curator with extensive international experience and networks that can deliver on IMMA's mission to connect audiences and art and provide an extraordinary space in Ireland where contemporary life and contemporary art connect, challenge and inspire one another. The Board has every confidence that under her Directorship IMMA will continue to place the generation of new ideas and innovation at the heart of the organisation, enabling artists to make the work they want to make while bringing Ireland's cultural innovators into a deeper dialogue and a more fluid relationship with key international platforms and partners."
Speaking about her new appointment Annie Fletcher commented: "I am thrilled to be taking up the position of Director of the Irish Museum of Modern Art. It is a huge honour to be invited to lead the institution, building on IMMA's growing legacy since its establishment in 1991. Returning to Ireland, I am excited to start working with such an inspiring, talented and active artistic community. At the same time I look forward to initiating international collaborations and dialogues, drawing on the rich discourses and artistic practices I have had the privilege to encounter over the last 20 years."
Fletcher is currently working on a mid-career survey of the award winning artist-led collective Otolith Group and has recently curated or co-curated projects including the midcareer surveys of Qiu Zhijie, Hito Steyerl, Sheela Gowda David Malkjovic all at Van Abbemuseum. She has worked on the Museum of Arte Útil with Tania Bruguera, which opened in the autumn of 2013 at the Van Abbemuseum and developed the award winning two year programme Be(com)ing Dutch. She was co-founder and co-director of the rolling curatorial platform If I Can't Dance, I Don't Want To Be Part Of Your Revolution with Frederique Bergholtz and Tanja Elstgeest (2005-10). As a writer she has contributed to various magazines including Afterall, Metropolis M and other publications. Annie Fletcher will take up the post of Director on 1st March 2019.
– ENDS –
For further information and images please contact Monica Cullinane at tel: +353 1 612 9922; email: [email protected]