IMMA announce creative partnership with Dean Dublin
05/05/2016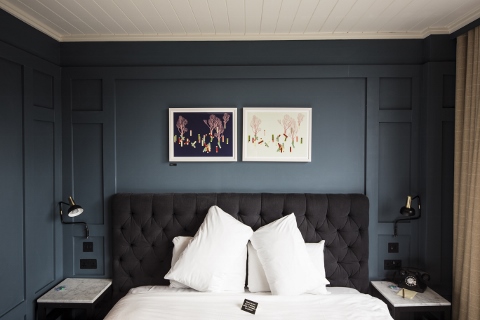 IMMA is delighted to announce DEAN DUBLIN as our Major Hotel Partner for 2016. Since they opened their doors in 2014, Dean Dublin has strived to create a fun and vibrant space for their guests, right in the heart of the city. An ideal partnership, both IMMA and Dean Dublin value cutting edge and contemporary art with Dean Dublin showcasing original artworks by Irish artists throughout the hotel. Their collection, curated by James Earley, features many artists whose work is also represented in the IMMA Collection; these include Irish artists Mark Francis, Richard Gorman, Patrick Scott and Samuel Walsh. The Dean Dublin Lobby features a glowing Neon LED sign I Fell in Love Here by British artist Tracey Emin, whose work is also included in the IMMA Collection, on long term loan from the Weltkunst Collection.
This partnership will allow Dean Dublin to offer their guests the unique opportunity to engage with IMMA's creative and experimental programmes, while it enables IMMA to invite some of the most influential figures in the Irish and international art world, including artists, curators and collectors, to come to Dublin.
The Dean Dublin IMMA partnership begins with the opening of a new work by Simon Fujiwara, opening at IMMA on Friday, 20th May. Entitled The Humanizer, this new commission is an imagined Hollywood biopic of Roger Casement with contributions from scriptwriter Michael Lesslie (Macbeth, 2015, Assassin's Creed, 2016) and Oscar winning designer Annie Atkins (Grand Budapest Hotel, 2013). Future partnerships include the IMMA Summer Party, curated by Irish actor Cillian Murphy.
IMMA Director Sarah Glennie said; "IMMA's partnership with Dean Dublin is one of our most important and significant relationships for 2016. A major factor in the delivery of our ambitious programme is the ability to offer hospitality to our artists enabling us to host some of the most influential figures in the Irish and International art world here in Dublin; something we simply could not do without Dean Dublin support. We really value this visionary support of IMMA and look forward to growing our relationship with Dean Dublin in the future".
Bryan Davern, GM of Dean Dublin, welcomed the partnership; "As IMMA's Major Hotel Partner we are delighted to welcome leading figures in the Irish and international art world to stay and experience Dean Dublin. Our values are aligned with what IMMA does best, creating new experiences that engage visitors."
…..
– ENDS  –
For more information and images for IMMA please contact [email protected] or [email protected] 01 612 9922
For more information on Dean Dublin please contact Aoife Kelly / Jenny Headen [email protected] / [email protected] 
Additional Information
IMMA
IMMA – Irish Museum of Modern Art, is Ireland's national institution of contemporary and modern art. Based in its home at the Royal Hospital Kilmainham, IMMA is celebrated for its vibrant and dynamic exhibition and education programmes.
IMMA is the home of the national collection of modern and contemporary art. Now numbering over 3,500 works, we ensure that this collection is accessible to visitors to IMMA and beyond, through exhibitions, collaborations, loans, touring partnerships and digital programmes.
Visited by over 475,000 people in 2015, IMMA is one of Ireland's leading cultural institutions and a key source of creativity and inspiration for visitors of all walks of life.
One out of every eight IMMA visitors experiences visual art for the first time through their IMMA visit and it is hugely important to us to create an enjoyable and engaging experience of contemporary art for everyone. We are driven to inspire a curiosity and appreciation of Irish contemporary art amongst our audience and the wider Irish public.
Dean Dublin
We don't do conventional. We do fun. Cool & comfortable rooms filled with stuff that will make you smile. Spaces for work & play. Food & drink to tweet home about. Smack bang in the heart of Dublin city.
No fussy hotel formality, just book, arrive, say hallo, grab an elevator & settle in. We've fifty two bedrooms in our building. Some are small. Some are big. Some are really, really big. They're all deadly sleeping spaces. We want you to feel like you're staying over at a mate's house so we've filled your room with fun stuff: big bouncy beds, super soft linen, blast power showers, Grafton Barber products, Marshall amps connecting to your gadgets, Netflix on your Samsung TV, loads of classic vinyl for your Rega turntable, munchies to make you grin, original new Irish art on the walls & much more. You might never leave your room. That's OK with us.
We love to work, to play, to eat, to drink, to dance. So besides our sleeping places, we've got The Dean Bar, The Blue Room, The Loft, Sophie's on the roof, Everleigh in the basement. Everyone is welcome, it's an open house. You don't need to be staying at Dean Dublin to hang out at Dean Dublin: a seven am Clement & Pekoe coffee grab; a quiet corner to use as a hot desk; rotisserie for lunch; an unbelievable New York-Italian dinner; a table full of classic cocktails; DJs on the decks; sunrise; sunset.
We are smack bang in the heart of Dublin City. We've done our best to keep the noise to a minimum but there's always going to be a big buzz around here at night, that's the location you're staying in when you stay with us. Please make sure to consider this when booking. Stay in, head out, work, party, it's up to you. http://deandublin.ie/
Image credit: Colm MacAthlaoich, Candy Forest