IMMA ANNOUCES 2023 SUMMER OUTDOOR PROGRAMME
30/05/2023
IMMA Outdoors presents a dynamic programme of free activities with evening events and family focused Sundays throughout the summer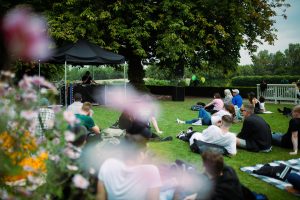 IMMA, the Irish Museum of Modern Art, is excited to present IMMA Outdoors 2023 a dynamic programme of free events that turns the museum inside out and activates the 48 acres of the museum's site, through artist led events, performances, music, talks, screenings, workshops, and tours. Running from June to September, and now in its third year, the 2023 programme includes IMMA Nights, an evening series of events taking place every Thursday, and Sundays at IMMA a new family focused day.
This year IMMA Outdoors explores ideas of community, the environment and the collective civic space of the museum within the natural setting of its beautiful grounds, to provide an inclusive restorative space for audiences of all ages to enjoy. This expansive programme, running over four months and across multiple locations, connects with a diverse set of communities, interests and curiosities, furthering IMMA's ambition to be a radically public space for all to enjoy. IMMA's Courtyard provides a welcoming space to hangout and avail of delicious treats from our new outdoor café Camerino. IMMA Outdoors concludes with Earth Rising, a four-day eco festival showcasing the most exciting innovators in the field of eco citizen science, design and creativity, empowering audiences to become agents of change. Earth Rising takes place from the 21 – 24 September to coincide with Culture Night 2023.
Programme Highlights  
IMMA Nights takes place on Thursday evenings from 6pm and offers a variety of events including talks, workshops, dance, performances, book launches and Open Studios, alongside DJs and live music in the Courtyard. Highlights include Traveller Voices brought to you by Pavee Point Traveller and Roma Centre on 29 June; The People's Shed a collective workshop and traditional music performance with artist Evelyn Broderick and Common Ground on 13 July; An Evening Celebration of the work of Tim Robinson with special guests on 10 August; and IMMA and Dublin Digital Radio (ddr) co-present Alternating Current Hybrid Radio Show on 17 August, showcasing the intersections of art, experimental and electronic music, performance and much more. Throughout the summer IMMA will share its site with cultural organisations, initiatives and artist groups creating a hive of evening activity in Dublin 8.
IMMA's new family focused day, Sundays at IMMA, offers artist led workshops, bespoke garden events and music in the Courtyard. Highlights include a workshop with artist Navine G. Dossos who created the visually stunning wall mural in the Courtyard, Kind Words Can Never Die, on 13 August; Paradise, Paradise, Paradise! by Isadora Epstein, a garden performance for families on 10 September; and IMMA in partnership with Dublin Dance Festival presents the award-winning production UP-CLOSE, a dance performance and workshop created for families on 7 July. IMMA's Sunday programme also offers events for the wider public such as drop-in Curator Talks and Screenings, including an Iranian film series presented in association with Artists for Woman, Life, Freedom.
After a sell-out edition in 2022, IMMA's Summer Party, Continuous Patterns, returns once again over two atmospheric midsummer evenings with a mix of music, art, talks, food and refreshments. Friday 14 July focuses on a programme of upbeat, contemporary and future focused music, while Saturday 15 July presents a slightly more relaxed atmosphere, perfect for friends and family.
This year's programme draws on six exhibitions available to visit in the galleries throughout the summer. Highlights include a monthly series of Live Performance Works by contemporary visual artists featuring Kevin Atherton, Sarah Pierce, David Sherry and Isadora Epstein; Open Studio Events with IMMA Resident artists, Rachel Fallon, Museum of Everyone, Rita Duffy, ANU and Thaís Muniz, that promises to give a unique insight into creative studio processes; and Sunday Screenings of experimental film drawn from the IMMA Collection featuring works by Vivienne Dick, Atoosa Pour Hosseini and more.
IMMA Outdoors' much-loved popular programmes, delivered to you by IMMA's Visitor Engagement Team, will continue throughout the summer including yoga classes, heritage tours, biodiversity tours, Mornings at the Museum workshops for families and Parent and Baby Hour for new parents.
The programme culminates in IMMA's second Eco Festival, Earth Rising, taking place over four-days. The festival will use art to motivate audiences to become more climate positive in their everyday lives by combining inspiring artistic interventions with workshops, talks and events which demonstrate how small but mighty acts in the community can have an impact. It will plant the seeds of sustainability, enabling audiences, to participate, discuss and experiment, combining inspiring impactful commissions with civic exploration of eco creativity.
Visit IMMA's website and social media channels for regular updates and to view the monthly calendar. A printed programme listing all events from 8 June – 24 September 2023 is also available.
30 May 2023 
–    Ends – 
 
Contact: For further information and images please contact Monica Cullinane E: mo[email protected] Patrice Molloy E: [email protected]