2017 Hennessy Art Fund for IMMA Collection Artists Announced
13/06/2017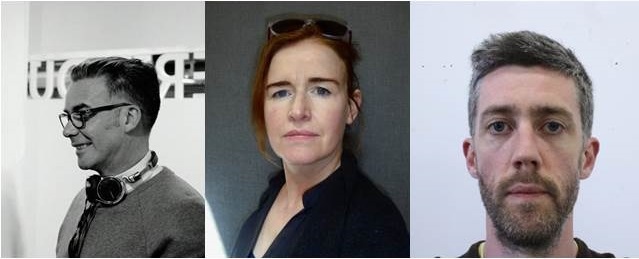 Pictured left to right: Mark Garry, Maireád McClean, and Ciarán Murphy. Not pictured: Yuri Pattison
THE HENNESSY ART FUND FOR IMMA COLLECTION ARTISTS 2017
13 June 2017:  Hennessy Ireland and IMMA (Irish Museum of Modern Art) today announce the four artists whose works have been selected to be purchased by The Hennessy Art Fund for IMMA Collection 2017. Mark Garry, Maireád McClean, Ciarán Murphy and Yuri Pattison will see their works added to the IMMA National Collection of Contemporary and Modern Art and join the company of esteemed artists such as Louis le Brocquy, Patrick Scott and Katie Holten. The works will be revealed to the public at IMMA on Thursday July 13 2017.
In 2016 Hennessy Ireland formed a unique partnership with IMMA to help fund the purchase of important works by Irish and Irish based artists for the National Collection. Works are sought that show excellence and innovation within contemporary art developments, and which represent a signal moment of achievement with the artist's practice and capture a moment in time of Irish culture. They must also have been made within the previous five years.
Artists are nominated by a selection panel, including IMMA Director, Sarah Glennie and Head of Collections, Christina Kennedy and independent guest curator, Roscommon based visual artist Linda Shevlin. Linda has curated, facilitated and managed both large and small-scale visual arts projects including the 53rd Venice Biennale where she was project manager for the representative artists Gareth Kennedy & Sarah Browne and Radical Actions at RMIT Galleries, Melbourne as part of Culture Ireland's 2016 international programme I Am Ireland. Final recommendations are approved by the IMMA Collection & Acquisitions Committee, in line with IMMA's Collection policy. The inaugural Hennessy Art Fund for IMMA Collection saw works by artists Kevin Atherton, David Beattie, Rhona Byrne and Dennis McNulty selected.
Since the first solo presentation of Ciarán Murphy's paintings in Dublin in 2005 his work has achieved considerable national and international critical success, with solo exhibitions in Kavi Gupta Gallery Chicago, Grimm Gallery Amsterdam and Douglas Hyde Gallery Dublin;  the work of Mairéad McClean, who grew up in Tyrone and has been based in London for the past 25 years, disrupts and restructures events from the past highlighting the unreliability of history; Mark Garry's practice stems from and is informed by a number of diverse fields of research, which inform his interest in observing and engaging with the many mechanisms that influence and effect how one navigates the world and the complexity and subjectivity inherent in these navigations; while Dubliner Yuri Pattison is described as a tireless, natural thinker at the forefront of a group of emerging artists whose practices, in an inherently 21st century manner, are informed by a seamless merger of hard and soft realities
Speaking about being selected to join the National Collection as part of the Hennessy Art Fund for IMMA 2017, Mairéad McClean said "Being in IMMA's collection means that my work has a visibility and reach that stretches beyond what I would have envisaged. Through the Hennessy Art Fund, this chosen video work will now become a significant part of our public inheritance for future generations to experience."
Ciaran Murphy added, "I'm delighted to be part of the Hennessy Art Fund for IMMA Collection. IMMA has always been important to me so to have one of my paintings in such a cherished public institution is a real honour. I would like to thank Hennessy for their generous support, and for recognising the importance of supporting the National Collection of Contemporary Art."
Elaine Cullen, Market Development Manager for Moet Hennessy Ireland, said "Hennessy has strong roots to Irish culture and has a long tradition of supporting and nurturing Irish talent in the arts. It is a privilege to enable the acquisition of works by these four artists, works which are deserving of their addition to the hugely important National Collection at IMMA. We've been lucky enough to view the pieces and look forward to the public having the opportunity to see them at IMMA in July."
Sarah Glennie, Director of IMMA, said "We are delighted to announce that with the invaluable support of the Hennessy Art Fund that these important works will now be joining the IMMA Collection, to be enjoyed by audiences now and for generations to come. It is vital that IMMA, as Ireland's national institution for contemporary art is in a position to collect the work that is happening now, defining our present and reflecting the extraordinary depth of contemporary visual art currently being produced in Ireland. We are indebted to Hennessy for their visionary support which allows this to happen. and We are delighted to be taking this significant partnership into year two and we look forward to working with them into the future."
IMMA welcomed over 580,000 visitors in 2016 making it the second most popular free visitor attraction in Ireland. In addition to the Hennessy Art Fund for IMMA, other highlights of the Hennessy cultural calendar include the Hennessy Literary Awards, the Hennessy Portrait Prize with the National Gallery and Hennessy Lost Fridays with RHA.
For further information visit www.imma.ie and www.hennessy.com, log onto the Hennessy Cognac Ireland's Facebook page www.facebook.com/HennessyCognacIreland, or follow Hennessy on Twitter @HennessyIRL and Instagram @HennessyIRL.
The Hennessy Art Fund for IMMA Collection 2017 Artists:
Ciarán Murphy
Born in 1978, in Mayo, Ciarán Murphy now lives and works in Kilkenny. His enigmatic paintings take their starting point from a wide-ranging and ever growing archive of images found, collected and carefully arranged into categories by the artist. This unseen archive forms the backbone that haunts the finished works. Through a process of editing, erasing, overwriting or simply replacing what has been painted and unpainted, the work leaves a sense that is not quite of loss, or absence, but rather the presence of a non-thing.
Mairéad McClean
Born in Beragh, Co Tyrone, Northern Ireland Mairéad McClean has lived and worked for the past 25 years in London. She is artist and filmmaker whose work disrupts and restructures events from the past, highlighting the unreliability of both history and memory. Through the use of sound, still and moving image, material evidence is re-opened and re-examined and a new vantage point is created. She is an award-winning filmmaker who has produced work around the themes of memory, identity and migration. Her most recent video No More, won the inaugural MAC International Art Prize in Oct 2014.  
Mark Garry
Born in Mullingar in 1972, Mark Garry is driven by a fundamental interest in observing how humans navigate the world and the subjectivity inherent in these navigations. He uses a variety of media and mechanisms in his practice, primarily focusing on institution-based installations. These delicate site-specific installations are measured and meticulous systems of construction, combining physical, visual, sensory and empathetic analogues, creating arrangements of elements that intersect the space and form relationships between a given room and each other. They incorporate a specific range of natural and craft materials and processes such as plants, thread, beads, woodcarvings and manufactured materials such as coloured contact, origami, and mechanical musical mechanisms.
Yuri Pattison
Born in Dublin in 1986 Yuri Pattison now lives and works in London. He is a tireless, natural thinker at the forefront of a group of emerging artists / intellectuals whose practices, in an inherently 21st century manner, are informed by a seamless merger of hard and soft realities. He works in sculpture and digital media, exploring the visual culture of digital economies and the natures of online/offline skill sharing. Typical, recent examples of his artworks thoughtfully list medium and/or displayed interior contents.
About Linda Shevlin, Guest Curator
Linda Shevlin is an independent curator and visual artist based in Co. Roscommon, Ireland. Since graduating with honours from the Masters in Visual Arts Practices, IADT, Linda has curated, facilitated and managed both large and small-scale visual arts projects. She has been awarded the Arts Council of Ireland's Visual Arts Curatorial Residency award for three consecutive years (2013 – 2016) and in that time has produced a series of events and exhibitions in County Roscommon including newly commissioned works by Maria McKinney (IE) and Sean Lynch (IE); public art projects by Sean Rafferty (AUS), Ruth E. Lyons (IE) and Deirdre O'Mahony (IE), exhibitions by Martin Parr (IE), Duncan Campbell (IE) & Eamon O'Kane (IE) and a symposium titled The Workers with contributions from Adam Sutherland of Grizedale Arts (UK) & M12 Collective (USA) among others. In 2017 she is co-curating the visual art programme for Bealtaine Festival with festival director Tara Byrne.
About Hennessy
Immersed in Irish heritage, Hennessy has evolved to become one of Ireland's most well-known and cherished brands. Founded in Cognac, France in 1765 by Corkonian Richard Hennessy, the brand's distinctly Irish heritage has stood the test of time and today draws on over 250 years of knowledge, talent, expertise and passion. It is a brand that is intrinsically linked to the Irish way of life and is complemented by Hennessy's commitment to Ireland's unique sociability and skill in creating unforgettable experiences. Hennessy's Savoir-Faire is evident from its unique heritage, tradition and exceptional craftsmanship which create Hennessy Cognac. Though the Hennessy brand has evolved throughout the years, the true art form of its traditions and methods remains timeless.
About IMMA
IMMA (Irish Museum of Modern Art) is Ireland's leading national institution of Contemporary and Modern art. Based in its home at the Royal Hospital Kilmainham, IMMA is celebrated for its vibrant and dynamic exhibition and education programmes.
IMMA is the home of the National Collection of Modern and Contemporary art. Now numbering over 3,500 works, IMMA ensures that this collection is accessible to visitors to IMMA and beyond, through exhibitions, collaborations, loans, touring partnerships and digital programmes.
Visited by over 580,000 people in 2016, IMMA is one of Ireland's leading cultural institutions and a key source of creativity and inspiration for visitors of all walks of life. One out of every eight IMMA visitors experiences visual art for the first time through their IMMA visit. The museum is driven to inspire a curiosity and appreciation of Irish contemporary art amongst their audience and the wider Irish public.