Education and Community
> Talks, Lectures & Events
Listen to Talks & Lectures

You can listen back to a selection of previous Talks by visiting our soundcloud channel. IMMA has a dynamic talks programme with regular contributions from artists, historians and curators, all discussing underlying themes from the Exhibitions and Collection programmes at IMMA.
Selected recordings are part of the IMMA Audio Archive in operation from 1991 to present.
Book Talks & Lectures
Booking is essential for all Talks and Lectures at IMMA. Tickets are free and open to the public unless otherwise specified. Find below details and booking information for the current programme. Please check back regularly as new talks and events are added each month.
Talks, Lectures & Events 2014
06 Jun 2015
Discussion: On Food, Science, Art and Collaboration.
Cofounders of The Center for Genomic Gastronomy; Zack Denfeld (artist, designer and educator) and Catherine Kramer leads a discussion that draws on their research on food, science, art and collaboration. They will be joined by Summer Rising special guests, who include; Michelle Darmody (Cake Cafe), Stephen Brandes (artist and founder of Domestic Godless) and others, in which to address shared interests in food systems and collaborations.
03 Jun 2015
IFI + IMMA present a Screening and Discussion with Stan Douglas
Stan Douglas (photographer and filmmaker) and Walter D. Asmus (Theatre/film director and collaborator with Samuel Beckett) will consider Beckett's influence on cinema in a discussion moderated by exhibition curator Seamus Kealy (Director, Salzburger Kunstverein, Salzburg, Austria).
23 May 2015
WORKSHOP: READING TROUPE #04 | Emma Haugh
As a precursor to the forthcoming Etel Adnan exhibition at IMMA, artist Emma Haugh will run a free workshop around Adnans writings. No previous knowledge of Adnans work is necessary to participate in this day-long event. Interested? Come read with us, lunch and refreshments will be provided on the day.
16 May 2015
National Drawing Day at IMMA
Human beings have been drawing for tens of thousands of years, with the earliest examples still as fresh as the day they were drawn on the walls of caves deep underground. For the National Drawing day on Saturday the 16th of May IMMA invites you to stay in touch with our cave dwelling ancestors and join us for a collaborative wall drawing project based on our new collection exhibition Fragments.
08 May 2015
21 Jun 2015
CALL FOR PAPERS: ART | MEMORY | PLACE - Research Seminar
Focusing on developments in contemporary art, this seminar aims to provide a forum for emerging post-graduate researchers and scholars to present their research as it relates to the topic Art | Memory | Place. Researchers from all related disciplines are invited to apply. however the emphasis is on visual culture and modern and contemporary art.
Further Information
If you are experiencing difficulties while making a booking please email a request for ticket/s to: talksandlectures@imma.ie. You will receive notification of your booking by email. Or telephone: +353 1 612 9918.

For further information please contact Sophie Byrne, Assistant Curator: Education & Community Programmes, Tel: +353 1 612 9913, Email: sophie.byrne@imma.ie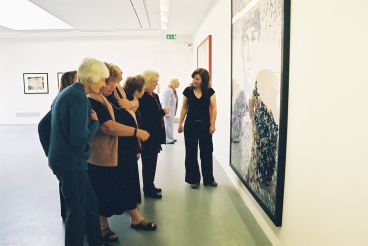 Please click

here to read IMMA's Terms & Conditions.