Education and Community
> Talks, Lectures & Events
Listen to Talks & Lectures

You can listen back to a selection of previous Talks by visiting our soundcloud channel. IMMA has a dynamic talks programme with regular contributions from artists, historians and curators, all discussing underlying themes from the Exhibitions and Collection programmes at IMMA.
Selected recordings are part of the IMMA Audio Archive in operation from 1991 to present.
Book Talks & Lectures
Booking is essential for all Talks and Lectures at IMMA. Tickets are free and open to the public unless otherwise specified. Find below details and booking information for the current programme. Please check back regularly as new talks and events are added each month.
Talks, Lectures & Events 2015
27 Aug 2015
Art Al Fresco
Join IMMA staff for a morning ramble around IMMA's beautiful Formal Garden. We'll be exploring the striking works of the modern and contemporary outdoor sculpture in relation to concept, material and form, and thinking about the structure of the Garden.
23 Aug 2015
IMMA25: Steve Simpson 'Sketch-Crawl'
Bring along your sketchbook and join award winning illustrative designer, Steve Simpson, for sketch-crawl fun around the grounds of IMMA exploring the inspirational architecture and gardens.
12 Aug 2015
Lunchtime Lecture | Derval Tubridy
The Unthought and the Harrowing: Samuel Becketts Necessary Art. This lecture explores the intersections between Becketts writing and the visual arts.
Further Information
If you are experiencing difficulties while making a booking please email a request for ticket/s to: talksandlectures@imma.ie. You will receive notification of your booking by email. Or telephone: +353 1 612 9918.

For further information please contact Sophie Byrne, Assistant Curator: Education & Community Programmes, Tel: +353 1 612 9913, Email: sophie.byrne@imma.ie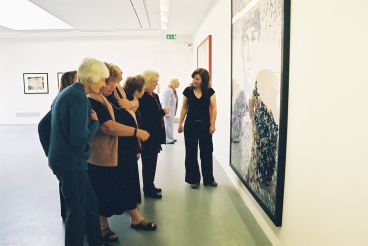 Please click

here to read IMMA's Terms & Conditions.