Visit IMMA
> How to get there
How to get to IMMA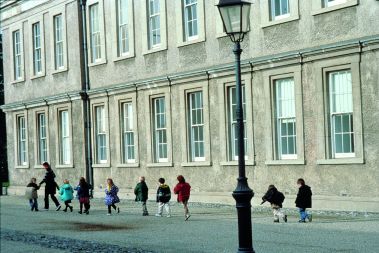 Museum Entrance on Military Road. Exhibitions are on show in the New Galleries.

By Luas: Red line to Heuston Station, 8 minute walk to Museum entrance on Military Road. For further information about Luas please click here
By bus: Buses to Heuston Station (8 minutes walk via Military Rd): 145, 79 and 79a from Aston Quay. Buses to James St (8 minutes walk via steps to Bow Lane onto Irwin St and Military Rd): 13, 40, 123 from O'Connell St and Dame St.
By car: 10 minute drive from city centre. Parking is €2 for the first three hours.
Due to an increasing problem with non-Museum visitors leaving their vehicles in the IMMA car park for lengthy periods, the Museum has put in place a carefully-structured payment system, which is being operated by Park Rite. This system is designed to deter long-term parking while at the same time facilitating IMMA visitors with an initial charge of just €2 for the first three hours, then €2 per hour thereafter.
On foot: Approximately 30 to 40 minutes from city centre.
By train: 8 minute walk from Heuston Station; from Connolly and Tara Street Stations by 90 bus to Heuston Station
To view the location of IMMA in relation to other galleries in Dublin please visit www.dublingalleriesmap.ie which has an excellent map that can be searched on screen or downloaded as a pdf.
Location Map