Education and Community
> Community, Family, Adults & Young People
---

Families

Young People

Adults

Groups
Families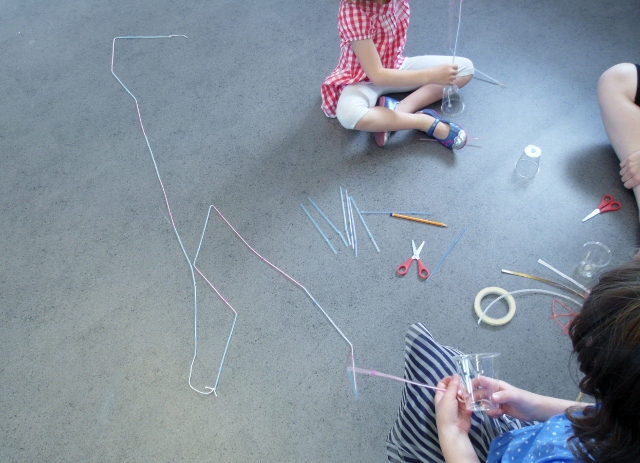 IMMA has a broad range of family programmes to engage audiences of all ages:
Family Workshop – Explorer
Sundays 2.00 – 4.00pm  | From 25 January  | Drop in
Weekly free gallery workshop where families are introduced to IMMA's current exhibitions, experience artworks, and make their own art.
Family Workshop – Mornings at the Museum
10.00 – 11.00am  | Wed 18 & Thu 19 February  | Drop in
Free family workshop during the mid-term. Children and parents can explore artworks and making art together. Drop into the main IMMA reception at 10.00.
New Family Resources – eye.see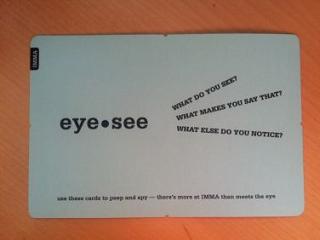 eye.see is a fun, interactive and easy to use self-guided resource for families visiting IMMA. It is a series of beautiful viewfinders inspired by artworks from the museum's Collection, including Max Bill, Doublement, Iran do Espírito Santo, Untitled (Keyhole) and John Newling, Maquette for A Turning Mutability. eye.see helps families to look closer at artworks on display at IMMA, and comes with an information card which provides questions for parents / carers to use to help support your conversations.
You can pick up eye.see from our shop for €2 so you can peep through keyholes and pop out circles to see what lies behind them! eye.see can be used at home or in other places for further exploration and observation.
Literary IMMA Art Trail


Look, No Cows is a trail for families by Siobhán Parkinson which visits her favourite artworks from IMMA's Collection in the museum grounds. The booklet includes a map and is available free of charge.
Click below to watch the video with Siobhan Parkinson walking the trail with children: (video length approx. 19 minutes)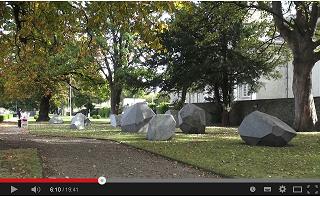 Young People
IMMA offers creative experiences for 12-15 year olds and 15-18 year olds which consist of looking, discussing and making, as well as engaging with IMMA's exhibitions and Collection. We will be running workshops for half term in February, the Easter holidays and the summer break. Please check this webpage from mid-January for updated details.
If you wish to be added to our email list for teens please email edcommbooking@imma.ie stating which age category you would like to receive information about; 12-15 years old and/or 15-18 years old.
IMMA Teens | Mid-term Art Workshop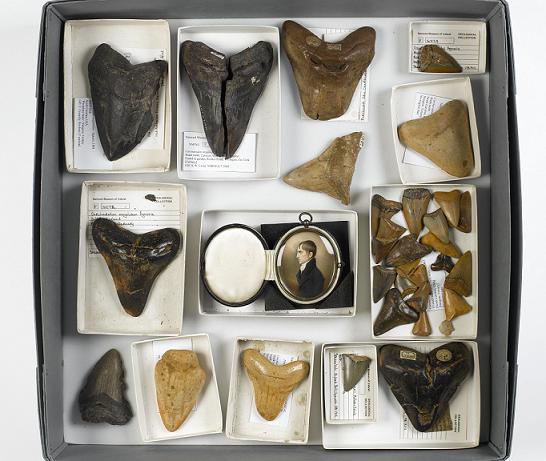 One day art workshop for Teens
o Workshop for 12-15 year olds take place 13:00 to 16:00 on Tuesday 17 February, online booking www.showclix.com/event/3926139 
o Workshop for 15-18 year olds take place 13:00 to 16:00 on Wednesday 18 February, online booking www.showclix.com/event/3926141 
Location: IMMA, Royal Hospital, Kilmainham, Dublin 8. Workshop free of charge.
Lynn McGrane facilitates a workshop based on the critically acclaimed and hugely popular exhibition TROVE: Dorothy Cross selects from the National Collections Sponsored by BNP Paribas
Participants will be:
• taking a detailed look at a selection of works in the exhibition
• looking closely at how we visit an art gallery and discussing what methods and information we prefer to use when exploring an exhibition
• participating in a selection of making and writing activities in the gallery 
• finding out about the different roles and tasks involved in making an exhibition at a museum
• 15-18 year olds will be taking a quick look at the "Gallery Visit Question" in previous Leaving Cert papers and discussing how Trove could be used to answer this question
This mid-term holiday workshop is free but must be booked. Places are limited and allocated on a first come, first serve basis. Please present a copy of your Showclix ticket when you arrive at IMMA for the workshop. If, following booking, you are unable to take up your place at the workshop, please inform IMMA as soon as possible so that the vacant place may be reallocated. 
Contact IMMA Education & Community for further information.
Click here for IMMA policies on privacy and child protection. 
Photo: Fossil shark teeth Carcharodon megalodon, USA Natural History Collection © National Museum of Ireland
Adults
Studio 10
Studio 10 is the Irish Museum of Modern Art's (IMMA) gallery sessions programme for adults of all levels of creative experience. It combines tours, discussions, art-making and more, and is an excellent springboard for engaging with modern and contemporary art. Blocks of sessions will address particular exhibitions at IMMA and will be facilitated by two IMMA Mediators. Blocks comprise of four consecutive weekly sessions, 10am-12.30pm on Fridays, and are based from Studio 10, IMMA, Royal Hospital, Kilmainham, Dublin 8:
BLOCK A: 6th, 13th, 20th, 27th February
Exhibition focus: TROVE: Dorothy Cross selects from the National Collections. Exhibition sponsored by BNP Paribas
BLOCK B: 6th, 13th, 20th, 27th March
Exhibition focus: Duncan Campbell and also IMMA Collection: Conversations
BLOCK C: 10th, 17th, 24th April & 1st May
Exhibition focus: Gerda Frömel & Diogo Pimentão
BLOCK D: 8th, 15th, 22nd, 29th May
Exhibition focus: Karla Black
Blocks of sessions are free, no booking is required, and participants may attend multiple blocks as they so wish.
Drawing Each Other with artist Dorothy Smith
As part of a workshop at IMMA on Saturday 17 May 2014 in association with National Drawing Day andBealtaine 2014, 16 people aged from 10-17 years gathered at IMMA to draw each other. Quick warm-up sketches gradually led to longer 20mins drawings. You can watch the video, showing some of the exploration and adventure of these drawings, by clicking on the image below to launch youtube.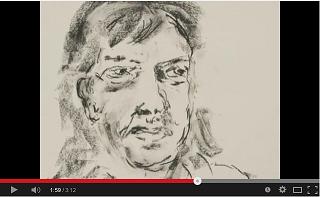 Groups
Pre-booked Guided Tours
Guided tours are available for special interest groups including schools, colleges and adult/community education. Tours are led by IMMA staff and are free of charge except for occasional temporary exhibitions - students in full time education are exempt from this charge. Tour times: Tuesday to Friday at 9.30am; 10:00am, 10.30am, 11.00am and 2.30pm.Booking required.
Maximum School group size 32.Two adults should accompany each school group. Maximum Adult group size 50. Please click here to book a tour online or tel: 01 612-9937, email: frontofhouse@imma.ie, at least two weeks in advance. Please read the Terms and Conditions before booking your tour.
Guided Tour & Workshop
Groups can also arrange a workshop in conjunction with a guided tour. For further information please contact Lisa Moran, tel: 01 612 9912, email: lisa.moran@imma.ie or Caroline Orr, tel: 01 612-9956, email: caroline.orr@imma.ie