Engagement and Learning
> Talks, Lectures & Events
Listen to Talks & Lectures

You can listen back to a selection of previous Talks by visiting our soundcloud channel. IMMA has a dynamic talks programme with regular contributions from artists, historians and curators, all discussing underlying themes from the Exhibitions and Collection programmes at IMMA.
Selected recordings are part of the IMMA Audio Archive in operation from 1991 to present.
Book Talks & Lectures
Booking is essential for all Talks and Lectures at IMMA. Tickets are free and open to the public unless otherwise specified. Find below details and booking information for the current programme. Please check back regularly as new talks and events are added each month.
Talks, Lectures & Events 2017
21 Oct 2017
09 Dec 2017
IMMA Collection: Lucian Freud / Reading Group
In conjunction with the TCD - TRIARC & IMMA: Lucian Freud Lecture Series (2017 – 2018), a monthly reading group will be held at IMMA and its onsite Freud Centre over the coming months. Led by writer and researcher Nathan O Donnell, these monthly sessions take their cues from the talks series, with a selection of readings that pursue tangents and illuminate aspects of Freuds life and work.
12 Dec 2017
20 Feb 2018
Weekly Lunchtime Screenings / E.A.T: 9 Evenings: Theatre & Engineering
From October 13 - 23, 1966, Experiments in Art and Technology (E.A.T.) presented a series of artists performances 9 EVENINGS: THEATRE & ENGINEERING, at the 69th Regiment Armory in New York City. Raw documentary film and sound material from 9 Evenings in the E.A.T.s archives for more than thirty years has been used to make films on video that reconstruct each of the ten artists performances as faithfully as the material permits and an add documentary sections features interviews with artists and engineer the artistic and technical elements in the work.
25 Jan 2018
18:00 to 18:55
Artist Conversation / Brian Maguire & Sarah Glennie
Artist Brian Maguire discusses his current IMMA exhibition with Sarah Glennie, Director, NCAD. This talk explores Maguire's research and recent visits to Syria, as it relates to his ongoing interests in social and political situations and approaches painting as a gesture of solidarity.
01 Mar 2018
18:30 to 20:00
Seminar Series : Part I / Civil War – A Historical & Contemporary Perspective
Exploring the continuum of war and the complexities of civil conflict from past to present, shared and diverging histories will be examined by Giath Taha (Documentary Photographer, Syria); Paddy Woodworth (Author, Journalist, Irish Times); Colm Laighneach (Member of Hidden Voices, an international conflict resolution body based in Ireland). Chaired by Susan McKay ( Author and Journalist).
07 Mar 2018
19:00 to 20:00
IMMA & TCD - TRIARC / LUCIAN FREUD TALK SERIES - Isabelle Graw
Internationally renowned art historian and professor Isabelle Graw considers what constitutes painting today and looks at current measures of value in painting, from artistic to economic, through the lens of art history and critical theory.
18 Apr 2018
13:15 to 14:00
Curators Response Michael Dempsey / The Aleppo Paintings
Michael Dempsey, Head of Exhibitions, Dublin City Gallery The Hugh Lane, explores the theme of war and the language of painting in response to Maguire's visceral painting series, War Changes Its Address: The Aleppo Paintings.This talk takes the form of a gallery walk through, places are limited.
27 Apr 2018
14:30 to 16:30
Seminar Series: Part Two / Bearing Witness – Creative & Critical Practice on the Frontline
Exploring the continuum of war and the complexities of civil conflict; part two of this Seminar series considers the power and agency of witness, observation and reportage on the front line.Speakers include Brian Maguire (Artist); Lara Marlowe (Author, France Correspondent and Journalist, Irish Times); Elisa Perrigueur (Film maker and Activist, Paris), Ed Vulliamy (Writer, The Guardian and The Observer, UK) and Razan Ibraheem (Journalist, Syria / Ireland).
Further Information
Frequently Asked Questions
IMMA Talks + Events Frequently Asked Questions
You will receive notification of your booking by email. If you are experiencing difficulties while making a booking, please check our FAQ page for help.
If your query is not addressed on the FAQ page, please contact bookingqueries@imma.ie. Emails to this address are checked between 9.30am and 11am Tuesday - Saturday.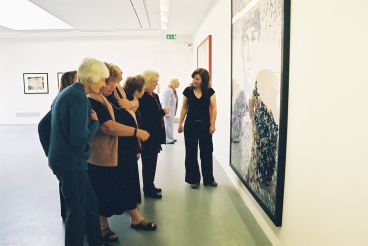 Please click

here to read IMMA's Terms & Conditions.
For further details about the programme email sophie.byrne@imma.ie, Assistant Curator, Talks and Public Programmes, IMMA.