Engagement and Learning
> Talks, Lectures & Events
Listen to Talks & Lectures

You can listen back to a selection of previous Talks by visiting our soundcloud channel. IMMA has a dynamic talks programme with regular contributions from artists, historians and curators, all discussing underlying themes from the Exhibitions and Collection programmes at IMMA.
Selected recordings are part of the IMMA Audio Archive in operation from 1991 to present.
Book Talks & Lectures
Booking is essential for all Talks and Lectures at IMMA. Tickets are free and open to the public unless otherwise specified. Find below details and booking information for the current programme. Please check back regularly as new talks and events are added each month.
Talks, Lectures & Events 2017
0000-00-00
Select:Select to Select:Select
POSTPONED - Discussion / Faith of the Faithless – Simon Critchley
How do beliefs lead people to act in the world? From the paradox of politics and religion, this talk contemplates structures of faith and the deficit of moral life and ethical action in neoliberal society. Simon Critchley, Professor of Philosophy, The New School, New York.
13 Apr 2017
18:00 to 19:00
Curators Introduction / As Above, So Below
Co-curators of the exhibition, As Above, So Below: Portals, Visions, Spirits & Mystics ( 13 April - 27 August 2017); Sam Thorne, Director, Nottingham Contemporary, UK, Racheal Thomas, Senior Curator, IMMA come to get together in conversation to introduce this major group show originating at IMMA. Joined by selected exhibition artists, this discussion will draw on the history of art and spirituality, spanning the last 100years.
05 May 2017
13:00 to 14:00
IMMA/NIVAL : ROSC 50 - 1967 / 2017 - Opening Talk
Join Sean Kissane (Curator Exhibitions, IMMA) for an opening introduction of ROSC 50-1967 / 2017, a research project presented in IMMA's Project Spaces from 05 May – 18 June 2017.
06 May 2017
31 May 2017
IMMA / IFI Screening Series - As Above, So Below
In response to the major exhibition As Above, So Below: Portals, Visions, Spirits & Mystics, 13 April-27 August 2017, the IFI and IMMA present a special series of selected films that looks at narratives of mysticism, occult and transcendence in feature titles and artists experimental Film.
17 May 2017
13:15 to 14:00
IMMA/Nival ROSC 50 - 1967 / 2017 Lunchtime Talk: Brenda Moore-McCann
Art historian, writer and appointed researcher of the IMMA/NIVAL: ROSC 50 - 1967 / 2017 project, Brenda Moore-McCann shares artists' testimonies on the various ways ROSC supported some of the most iconic artworks made at the time by Brian O'Doherty, Marina Abramovic and others
23 May 2017
18:00 to 19:30
Book Workshop & Launch: Even the Dead Rise Up – Convened by Francis McKee
Francis McKee, Irish writer and Director, Centre of Contemporary Art, Glasgow, UK convenes a writing workshop event, based on mediumistic techniques that inform his new book Even the Dead Rise Up. Tracing global manifestations of mysticism, the occult and political dissent, Mckee's shares his personnel journey of becoming a spiritual medium, and the people personnel journey of becoming a spiritual medium, the people and practices he encountered and the ways this inspires creative, critical and intuitive methods of writing .
31 May 2017
18:30 to 19:30
ROSC 50 - 1967 / 2017: Artists' Discussion
Coinciding with the 50th Anniversary of ROSC, IMMA invites artists to come together in conversation to reflect on the direct experiences of a particular generation of artists associated with the ROSC exhibitions. speakers include Katy Prendergast, Nigel Rolfe, Robert Ballagh and others. Chaired by Christina Kennedy, Head of Collections, IMMA.
20 Jun 2017
19:00 to 20:00
Lecture / Art as a Compass towards the Future - Mark Patrick Hederman
Benedictine monk and writer Mark Patrick Hederman address the role artists can play in the future. Hederman draws on his scholarship of art and psychology and living a monastic life in the 21 century, Hederman discusses his proposition that art is its own kind of religion and therefore is prophetic.
Further Information
Frequently Asked Questions
IMMA Talks + Events Frequently Asked Questions
You will receive notification of your booking by email. If you are experiencing difficulties while making a booking, please check our FAQ page for help.
If your query is not addressed on the FAQ page, please contact bookingqueries@imma.ie. Emails to this address are checked between 9.30am and 11am Tuesday - Saturday.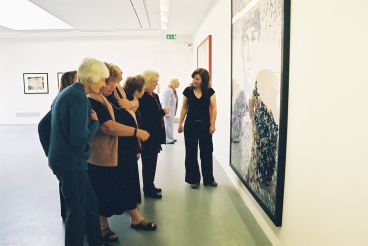 Please click

here to read IMMA's Terms & Conditions.
For further details about the programme email sophie.byrne@imma.ie, Assistant Curator, Talks and Public Programmes, IMMA.