Education and Community
> Talks, Lectures & Events
Listen to Talks & Lectures

You can listen back to a selection of previous Talks by visiting our soundcloud channel. IMMA has a dynamic talks programme with regular contributions from artists, historians and curators, all discussing underlying themes from the Exhibitions and Collection programmes at IMMA.
Selected recordings are part of the IMMA Audio Archive in operation from 1991 to present.
Book Talks & Lectures
Booking is essential for all Talks and Lectures at IMMA. Tickets are free and open to the public unless otherwise specified. Find below details and booking information for the current programme. Please check back regularly as new talks and events are added each month.
Talks, Lectures & Events 2014
14 Jun 2015
12:00 to 17:00
Artist Led Archive: Reactivation | Megs Morley
Are you, or have you ever been involved in an artist collective, or artist-led initiative in Ireland or Northern Ireland? Megs Morley, artist and independent curator of the archive in collaboration with NIVAL invites you to contribute to this nationally significant project, documenting over 40 years of artist-led activity in Ireland.
22 Jul 2015
18:00 to 19:00
Critical Response with Laura Rascaroli
Professor Laura Rascaroli (UCC) discusses her research interests in film and visual theory in response to a choice of works selected from the exhibition Stan Douglas Mise-en-Scène at IMMA. Mise-en-Scene at IMMA. Starting from the sensual and structural intermediality of Douglas's images, she will explore ideas of time and temporality in photography, painting, and film, discussing work of filmmakers and artists such as Jean-Luc Godard, Pier Paolo Pasolini, Chris Marker, Derek Jarman, Andy Warhol, Martin Arnold.
24 Jul 2015
13:15 to 14:00
Lunchtime GalleryTalk | Karla Black
Rachael Thomas (Head of Exhibitions, IMMA) leads a gallery talk on Karla Black's dynamic new body of sculptural work created for the gallery spaces of IMMA.
29 Jul 2015
IMMA25 'Printential' workshop
Join IMMA25 in a fun exploration of the versatile medium of print-making. We'll be bringing you a mini-workshop for you to try your hand at some dry point and screen printing with artist Jen Bowens, who'll show you the ropes and introduce you to the potential of print! There'll be games, collaboration and plenty of puns at IMMA25's "Printential"!
30 Jul 2015
11:00 to 12:00
Gallery Discussion | El Lissitzky: The Artist and the State
Sarah Glennie (Director, IMMA), Annie Fletcher (Chief Curator, Van Abbemuseum, Eindhoven) and Catherine Morris (art historian and curator) lead a gallery discussion on the new exhibition of works inspired by Russian artist, designer, teacher and theorist El Lissitzky.
06 Aug 2015
Art Al Fresco
Enjoy a morning of fresh air in the beautiful Formal Garden at IMMA. Our resident Craft Gardener will give an introductory talk on the history of the Garden, followed by a walking tour led by IMMA staff focusing on the interrelationship of nature, architecture and art, exploring the Garden's sculptures, and including some outdoor art-making.
12 Aug 2015
13:00 to 14:00
Lunchtime Lecture |Derval Tubridy
The Unthought and the Harrowing: Samuel Becketts Necessary Art. This lecture explores the intersections between Becketts writing and the visual arts.
17 Oct 2015
15:00 to 17:30
Lecture + Roundtable Discussion El Lissitzky: The Artist and the State
On the closing weekend of El Lissitzky: The Artist and the State, Catherine Morris presents a lecture on her research into the art historical and cultural contexts of Russia and Ireland, which links together the work and ideas of key revolutionary figures Maud Gonne, Yeats and El Lissitzky in the early years of the 20th-century. Followed by a discussion addressing Lissitzky's enthusiasm for the revolution and the relevance of his ideas for contemporary artists and society, as Ireland approaches its centenary year of 1916. Discussion participants include; Rossella Biscotti, Núria Güell, Sarah Pierce, Annie Fletcher, Sarah Glennie and discussion moderator Mick Wilson (Researcher, Valand Academy: Artistic Practice in Film, Photography, Fine Art and Literature at the University of Gothenburg). A closing reception follows this event.
Further Information
If you are experiencing difficulties while making a booking please email a request for ticket/s to: talksandlectures@imma.ie. You will receive notification of your booking by email. Or telephone: +353 1 612 9918.

For further information please contact Sophie Byrne, Assistant Curator: Education & Community Programmes, Tel: +353 1 612 9913, Email: sophie.byrne@imma.ie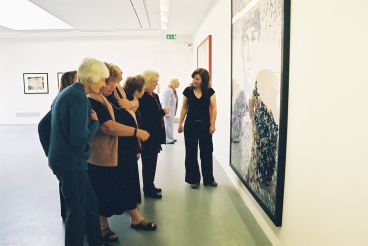 Please click

here to read IMMA's Terms & Conditions.