Engagement and Learning
> Talks, Lectures & Events
Listen to Talks & Lectures

You can listen back to a selection of previous Talks by visiting our soundcloud channel. IMMA has a dynamic talks programme with regular contributions from artists, historians and curators, all discussing underlying themes from the Exhibitions and Collection programmes at IMMA.
Selected recordings are part of the IMMA Audio Archive in operation from 1991 to present.
Book Talks & Lectures
Booking is essential for all Talks and Lectures at IMMA. Tickets are free and open to the public unless otherwise specified. Find below details and booking information for the current programme. Please check back regularly as new talks and events are added each month.
Talks, Lectures & Events 2017
0000-00-00
Select:Select to Select:Select
POSTPONED - Discussion / Faith of the Faithless – Simon Critchley
How do beliefs lead people to act in the world? From the paradox of politics and religion, this talk contemplates structures of faith and the deficit of moral life and ethical action in neoliberal society. Simon Critchley, Professor of Philosophy, The New School, New York.


24 Jun 2017
13:00 to 14:00
Artists Talk / Ellen Altfest on the work of Freud
Renowned American painter Ellen Altfest responds to a selection of Freud works presented in IMMA's galleries, inviting us to considering a subjective response to human form.


15 Jul 2017
19:30 to Select:Select
Before Dark Programme / IMMA Summer Party 2017
Before Dark you're invited to join us a for a series of interactive workshops and screenings, talks and tours and live performances from yoga and interactive dance workshops, healing histories and astral physics to talks and tours about medicinal herbs and mediumship, each exploring the history and wonder of IMMA's grounds and the skies above.


20 Jul 2017
13:15 to 14:00
As Above, So Below / Artist's Talk, Stephan Doitschinoff
This talk begins with a short artist's presentation in IMMA's Lecture room, followed by a conversation with the artists on his new work, Interventu (2017), currently presented in IMMA's courtyard and is inspired by the Brazilian ritual and tradition in offering gifts to the saints. Promoting reflection and critique, Doitschinoff discusses how he employs divinities, the uniform, the medals, and the street parades to activate collaborative and participatory works with volunteering performers.


25 Jul 2017
18:30 to 20:00
IFI, IMMA & AEMI PROJECTIONS / OUT OF BODY - Susan MacWilliam
Presented in partnership with IMMA's exhibition 'As Above, So Below: Portals, Visions, Spirits & Mystics', aemi is delighted to collaborate with artist Susan MacWilliam to present 'Out of Body', a selection of films that explore the psychic and physical spaces of body and landscape.


16 Sep 2017
Select:Select to Select:Select
Screening & Talk / Irish Artist & Experimental Film – Alice Butler
In conjunction with the exhibition Vivienne Dick, 93% STARDUST at IMMA, Alice Butler, film programmer and co-curator of AEMI, presents a talk and screening of artist and experimental moving image works by contemporary Irish artists who are foregrounding new ways to work independently, redefining the limits and potentials of cinema. Free / Book online - More details to come shortly.


20 Sep 2017
18:30 to 19:30
Lecture / Claire Pajaczkowska - New York No Wave
Dr Claire Pajaczkowskawork discusses the friendships and creative circles that inspired artists Nan Goldin, Vivienne Dick and their contemporary pioneers of the No Wave movement born out of downtown New York. This talk examines the cultural contexts and feminist politics of New York's underground scene of 1970s to mid-80's that became the melting pot for a subculture of avant-garde artists, musician and film-makers to cross pollinate and establish a defining period in the history of film, art, and music.


27 Sep 2017
18:30 to 19:30
Artists Conversation / Vivienne Dick & Beverley Zalcock
Irish artist and film-maker Vivienne Dick discusses with writer, lecturer and film maker Beverley Zalcock a selection of works presented at IMMA, exploring the locations, themes and characters that span Dick's compelling film making practice of the last four decades.


Further Information
Frequently Asked Questions
IMMA Talks + Events Frequently Asked Questions
You will receive notification of your booking by email. If you are experiencing difficulties while making a booking, please check our FAQ page for help.
If your query is not addressed on the FAQ page, please contact bookingqueries@imma.ie. Emails to this address are checked between 9.30am and 11am Tuesday - Saturday.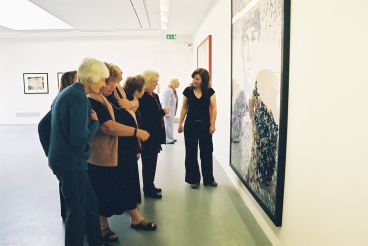 Please click

here to read IMMA's Terms & Conditions.
For further details about the programme email sophie.byrne@imma.ie, Assistant Curator, Talks and Public Programmes, IMMA.