Engagement and Learning
> Talks, Lectures & Events
Listen to Talks & Lectures

You can listen back to a selection of previous Talks by visiting our soundcloud channel. IMMA has a dynamic talks programme with regular contributions from artists, historians and curators, all discussing underlying themes from the Exhibitions and Collection programmes at IMMA.
Selected recordings are part of the IMMA Audio Archive in operation from 1991 to present.
Book Talks & Lectures
Booking is essential for all Talks and Lectures at IMMA. Tickets are free and open to the public unless otherwise specified. Find below details and booking information for the current programme. Please check back regularly as new talks and events are added each month.
Talks, Lectures & Events 2017
21 Oct 2017
09 Dec 2017
IMMA Collection: Lucian Freud / Reading Group
In conjunction with the TCD - TRIARC & IMMA: Lucian Freud Lecture Series (2017 – 2018), a monthly reading group will be held at IMMA and its onsite Freud Centre over the coming months. Led by writer and researcher Nathan O Donnell, these monthly sessions take their cues from the talks series, with a selection of readings that pursue tangents and illuminate aspects of Freuds life and work.
10 Nov 2017
12:00 to 13:15
noon: Heritage Tour / RHK Building & Gardens
Exploring the intersections of history, heritage and domestic activities related to IMMA's site and grounds of the Royal Hospital Kilmainham(RHK); join Michael Wardick (IMMA Visitors Engagement Team)and Mary Condon (Head Gardener)for a walking tour that visits the historical sites of the RHK's great hall, chapel and formal Gardens.
11 Nov 2017
14:00 to 17:00
IMMA/NIVAL SEMINAR: ROSC 50 Artist Research Commissions
An important part of the IMMA/ NIVAL ROSC 50 collaboration is to generate new research and new perspectives from both artists and audiences today, and to record these for future generations. Audiences are invited to attend a seminar comprising of artists' performance, lecture presentations, screening and a panel discussion. Participants include Amanda Coogan, Emma Haugh, Christodoulos Makris, Nathan O'Donnell and Suzanne Walsh, Brenda Moore McCann and Valerie Connor.
14 Nov 2017
15:00 to 17:00
CREATE / Common Ground / IMMA: ART, ECOLOGY and URBAN SPACES
Common Grounds CRITICAL CONVERSATION and this years CREATE DEBATE come together to highlight and profile best practice in collaborative arts that seeks to connect with broad publics. Chaired by Gregory Sholette, contributors include Seoidin O' Sullivan, Fiona Woods and Emmanuel Pratt, via Skype. Issues of sustainable cities, land access, food access, spaces of commoning and public sites in urban space will be explored.
17 Nov 2017
17:00 to 18:30
Learn Home Brewing in the After noon / Drop In
Bringing the project noon to a close, IMMA is delighted to welcome local Artisan Brew Academy's Kevin Somers-Walsh for a final gathering in The Project Spaces. A master brewer in the craft of home-brew techniques Kevin will offer insights into the processes and techniques used in the creation of home brew beers as we pay homage to the ambitions of the RHK veterans and their attempts to establish a brewery onsite at the hospital.
25 Nov 2017
14:00 to 15:00
That's Not Me / Artists' Conversation with Rodney Graham & Gerard Byrne
Artists Rodney Graham and Gerard Byrne discuss the sculptural, cinematic, performative and humorist nature of Graham's practice, drawing attention to the multiple references layered within his work, that enable Graham to seamlessly shift into different roles, characters and contexts.
06 Dec 2017
19:00 to 20:00
TCD & IMMA: LUCIAN FREUD LECTURE SERIES / Christina Kennedy
Freud treated every sitter, subject and object with the same intense focus. The emphasis the artist placed on the value of the live experience, of paying attention, of extended looking and intensity of time with the subject, became the means to take the artist to his inner world. Freud found 'the harder you concentrate, the more things that are really in your head start coming out."
Further Information
Frequently Asked Questions
IMMA Talks + Events Frequently Asked Questions
You will receive notification of your booking by email. If you are experiencing difficulties while making a booking, please check our FAQ page for help.
If your query is not addressed on the FAQ page, please contact bookingqueries@imma.ie. Emails to this address are checked between 9.30am and 11am Tuesday - Saturday.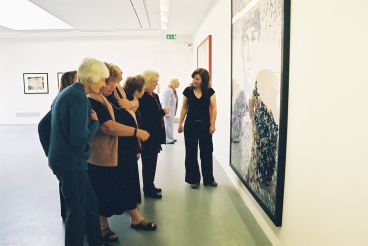 Please click

here to read IMMA's Terms & Conditions.
For further details about the programme email sophie.byrne@imma.ie, Assistant Curator, Talks and Public Programmes, IMMA.