Engagement and Learning
> Talks, Lectures & Events
Listen to Talks & Lectures

You can listen back to a selection of previous Talks by visiting our soundcloud channel. IMMA has a dynamic talks programme with regular contributions from artists, historians and curators, all discussing underlying themes from the Exhibitions and Collection programmes at IMMA.
Selected recordings are part of the IMMA Audio Archive in operation from 1991 to present.
Book Talks & Lectures
Booking is essential for all Talks and Lectures at IMMA. Tickets are free and open to the public unless otherwise specified. Find below details and booking information for the current programme. Please check back regularly as new talks and events are added each month.
Talks, Lectures & Events 2017
28 Jul 2017
15:00 to 17:00
IMMA/NIVAL ROSC 50 / 1967-2017: Closing Discussion
On the final week of the IMMA/NIVAL ROSC 50 | 1967-2017 in the Project Spaces, you are invited to join us for a series of reflections on the Rosc exhibitions and their impact on the visual arts in Ireland. Speakers include Patrick J. Murphy, former Chairman of Rosc; Matt Packer, Director of EVA International; Jonathan Carroll, writer and independent curator; and Sarah Glennie, Director of IMMA.
16 Sep 2017
13:00 to 15:00
Screening & Talk / Irish Artist, Experimental Film – Alice Butler
In conjunction with the exhibition Vivienne Dick, 93% STARDUST at IMMA, Alice Butler, film programmer and co-curator of AEMI, presents a talk and screening of artist and experimental moving image works by contemporary Irish artists who are foregrounding new ways to work independently, redefining the limits and potentials of cinema. Free / Book online - More details to come shortly.
20 Sep 2017
18:30 to 19:30
Lecture / Claire Pajaczkowska - New York No Wave
Dr Claire Pajaczkowskawork discusses the friendships and creative circles that inspired artists Nan Goldin, Vivienne Dick and their contemporary pioneers of the No Wave movement born out of downtown New York. This talk examines the cultural contexts and feminist politics of New York's underground scene of 1970s to mid-80's that became the melting pot for a subculture of avant-garde artists, musician and film-makers to cross pollinate and establish a defining period in the history of film, art, and music.
27 Sep 2017
18:30 to 19:30
Artists Conversation / Vivienne Dick & Selina Robertson
Irish artist and film-maker Vivienne Dick discusses a selection of works presented at IMMA with Selina Robertson, freelance writer and film programmer of Club des Femmes based in the UK. This talk explores the locations, themes and characters that span Dick's compelling film making practice of the last four decades.
04 Oct 2017
18:30 to 19:30
Artists' Discussion: Hennessy Art Fund for IMMA Collection
Christina Kennedy, Head of Collections, IMMA invites Irish artists to discuss the thinking and making behind the specific artworks purchased this year by the Hennessy Art Fund for IMMA Collection. In the context of their individual practices, the artist panel will consider what it means to have work featured and preserved within the National Collection of Modern and Contemporary Art.
10 Oct 2017
18:30 to 20:00
IFI, IMMA & AEMI PROJECTIONS / Film Series selected by Vivienne Dick
Artist and film-maker Vivienne Dick presents a personal selection of films that inspires her work. Titled, Delirious Rhythm, 1936 - 2017, the films chosen for the programme explore anarchic moments, about being alive to music, to rhythm, and the value of staring into space. The programme open with an introduction by the artist.
18 Oct 2017
30 Apr 2018
TCD - TRIARC & IMMA / LUCIAN FREUD PUBLIC LECTURE SERIES
Marking the first year anniversary of the significant loan of 50 works by Lucian Freud (1922-2011), IMMA, in collaboration with Trinity College, Dublin (TRIARC) invites leading artists, critics and cultural researchers to offer new perspectives on Freud's work and its critical reception today. Keynote events rotate on a monthly basis between venues at IMMA and TCD. Each session introduces a distinct topic related to the work of this seminal artist.
Further Information
Frequently Asked Questions
IMMA Talks + Events Frequently Asked Questions
You will receive notification of your booking by email. If you are experiencing difficulties while making a booking, please check our FAQ page for help.
If your query is not addressed on the FAQ page, please contact bookingqueries@imma.ie. Emails to this address are checked between 9.30am and 11am Tuesday - Saturday.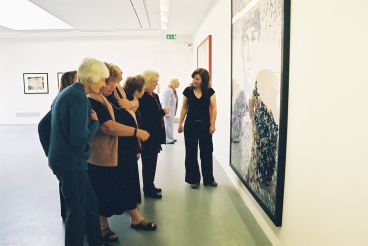 Please click

here to read IMMA's Terms & Conditions.
For further details about the programme email sophie.byrne@imma.ie, Assistant Curator, Talks and Public Programmes, IMMA.