Engagement and Learning
> Talks, Lectures & Events
Listen to Talks & Lectures

You can listen back to a selection of previous Talks by visiting our soundcloud channel. IMMA has a dynamic talks programme with regular contributions from artists, historians and curators, all discussing underlying themes from the Exhibitions and Collection programmes at IMMA.
Selected recordings are part of the IMMA Audio Archive in operation from 1991 to present.
Book Talks & Lectures
Booking is essential for all Talks and Lectures at IMMA. Tickets are free and open to the public unless otherwise specified. Find below details and booking information for the current programme. Please check back regularly as new talks and events are added each month.
Talks, Lectures & Events 2017
14 Feb 2017
11:30 to 12:15
Artists Talk & Opening: Jac Leirner - Institutional Ghosts
One of Brazils most internationally renowned contemporary artists, Jac Leirner introduces her exhibition Institutional Ghosts at IMMA. Described as a self-made Situationist, Leirner discusses her meticulous and patient process of constructing works out commonplace objects, in expanding on methods of Brazilian Constructivism, Arte Povera, and Minimalism.


16 Feb 2017
18:30 to 19:30
Art | Memory | Place: Closing Discussion with David Rieff & John Banville
In the final event in the Art | Memory | Place programme, David Rieff, author of In Praise of Forgetting: Historical Memory and its Ironies (2016) and John Banville, award-winning author and critic will discuss the role of historical memory and forgetting, taking as a starting point Davids proposition that sometimes it may be better to forget?


27 Feb 2017
18:30 to 20:00
IFI - IMMA : A Screening & Conversation with Duncan Campbell
Organised in collaboration with the IFI, The Welfare of Tomas O Hallissy by Turner Prize winner Duncan Campbell will be screened at the IFI cinema. To follow Duncan Campbell and Sarah Glennie, Director, IMMA will discuss the commissioning and making of Campbells new film The Welfare of Tomas O Hallissy.


02 Mar 2017
13:15 to 14:00
IADT ARC / IMMA SESSIONS: Sinead Hogan: Heidegger - Technology and art, Das Unheimliche
Dr Sinead Hogan, IADT ARC will consider Heideggers analysis of technology and art, addressing the role of the aesthetics of unheimlichkeit in the movement from philosophy to thinking, as implied by Heideggers text, The Origin of the Work of Art. The next session in this series takes the form of a seminar on the subject of Exhibition Histories.


Further Information
Frequently Asked Questions
IMMA Talks + Events Frequently Asked Questions
You will receive notification of your booking by email. If you are experiencing difficulties while making a booking, please check our FAQ page for help.
If your query is not addressed on the FAQ page, please contact bookingqueries@imma.ie. Emails to this address are checked between 9.30am and 11am Tuesday - Saturday.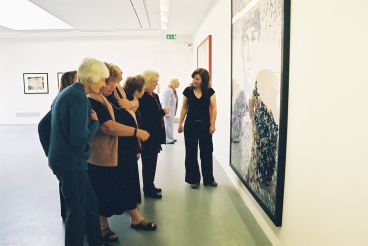 Please click

here to read IMMA's Terms & Conditions.
For further details about the programme email sophie.byrne@imma.ie, Assistant Curator, Talks and Public Programmes, IMMA.