Education and Community
> Talks, Lectures & Events
Listen to Talks & Lectures
Listen here to previous Talks and Lectures by artists, historians, curators and others, who discuss a range of themes and artworks in connection to the Exhibitions and Collection programme at IMMA. Selected recordings are part of the IMMA Audio Archive in operation from 1991 to present.
Book Talks & Lectures
Booking is essential for all Talks and Lectures at IMMA. Tickets are free and open to the public unless otherwise specified. Find below details and booking information for the current Talks and Lectures programme at IMMA.
Talks, Lectures & Events 2014
31 Jul 2014
17:00 to 18:00
Discussion + Preview | David Kronn + Sean Kissane
Sean Kissane (Curator, Exhibitions, IMMA) leads a gallery discussion with David Kronn on a selection of photographic works featured in the new exhibition Second Sight: The David Kronn.


06 Aug 2014
13:15 to 14:00
Gallery Talk | Karen Sweeney
Karen Sweeney (Assistant Curator, Exhibitions, IMMA) discusses a selection of works featured in the exhibition Isabel Nolan : The weakened Eye of Day.


13 Aug 2014
17:00 to 18:00
Open Discussion | IMMA's Residency Programme
Join the IMMA artists in residence for a series of informal conversations and studio gatherings that will explore the artists' current group show Unseen Presence.Exhibiting artists include; Becca Albee, David Horvitz, Antonia Low, Leung Mee-ping, Stephanie Nava, Sonia Shiel Nick Thurston, Albert Weis. This open discussion is led by the IMMA Residency Coordinator, Janice Hough.


22 Aug 2014
13:15 to 14:00
Gallery Talk | Oiticica - Propositions
David Fagan (Exhibitions, IMMA) introduces the practice of Oiticica and explore various narratives that comprise Oiticica's Proposition series.


27 Aug 2014
18:00 to 19:00
In Conversation | Isabel Nolan + Sally O Reilly
Isabel Nolan (artist) discusses her artistic approach for the current exhibition The Weakened Eye of Day with Sally O Reilly (writer for art and culture publications, including Art Monthly, Cabinet and Frieze).


04 Sep 2014
18:00 to 19:00
Conversation | Vaari Claffey + Sarah Pierce
Vaari Claffey (Founding Curator, Gracelands) and Sarah Pierce (artist) discuss the various iterations of Gracelands since its conception in 2008.


10 Sep 2014
18:00 to 19:00
Lecture | Emma Mahony
Emma Mahony (Associate Lecturer, NCAD), will examine how Oiticicas practice has been inspired by the favelas of Rio de Janeiro, and more widely how the informal city has been perceived by artists and intellectuals.


20 Sep 2014
12:00 to 14:30
Seminar | Art in the Contemporary Universe
This seminar will explore a number of themes prompted by the exhibition The Weakened Eye of Day by Isabel Nolan (IMMA June-September, 2014). The themes under discussion could be understood as impossibly vast ideas, involving huge, probably unanswerable questions that allow the participants to roam between the realms of science, aesthetics and philosophy.


24 Sep 2014
17:00 to 18:00
Discussion | Caroline McCarthy + Marguerite O Molloy
Marguerite O Molloy (Assistant Curator) and Caroline McCarthy (artist) discuss their co-curation of McCarthys Group Coordination (Red), 2011, and its responding reconfiguration for the gallery and architecture of IMMA


26 Sep 2014
26 Jul 2014
Second Level Talk | Des Ward
Des Kelly (artist and Lecturer, IADT) presents Common Places; the place of research in visual thinking, notebooks, models, and gatherings, for a talk that explores the artwork's experimental world, through notebooks, models, trials and events.


01 Oct 2014
18:00 to 19:00
IMMA + NUIM - Lecture | Edward Soja
Edward Soja (Professor, UCLA Luskin School of Public Affairs, USA) discusses Henri Lefebvres pioneering concept of the right to the city, and the production of social spaces, as a framework to address how issues of class, race, gender, and sexuality intersect with the spatiality of social life, in generating new cultural politics of difference and identity.


04 Oct 2014
13:00 to 14:00
Artist Response | Brian Hand
Brian Hand focuses on Everybody Must Get Stones by Noel Sheridan in which to reflect on Sheridans broader legacy as artist and educator within the development of the collaborative and participatory arts in Ireland.


07 Oct 2014
18:00 to 19:00
Authors Talk | Sarah Thornton
Sarah Thornton compares and contrasts answers to the simple but profound question; what is an artist? Sarah Thornton is author of 33 Artists in 3 Acts, and writes on contemporary the Economist, the Guardian, The Art Newspaper and the New Yorker.


17 Oct 2014
13:00 to 14:30
GOETHE INSTITUTE + IMMA - Discussion | Lunch Bytes
This session explores the topic Society, Public Space and Architecture in which to address how digital technologies have altered the way buildings can be conceived, conceptualized and modeled.


31 Oct 2014
13:15 to 14:00
Critical Response | Justin Carville
In response to the exhibition Second Sight : David Kronn Collection, Justin Carville (Lecturer, IADT) reflects on the history and legacy of Magnum photography within the practice of a current generation of contemporary photographers.


04 Nov 2014
18:00 to 19:00
Photographer's Talk + Discussion | Amelia Stein
Through the genus of portrait photography, Amelia Stein (photographer, Aosdana) explores the intrinsic qualities of fine black and white photography and print, in which to evoke universal themes of loss, memory and meaning in some of her most celebrated photographic projects. To follow this talk Trish Lambe (Gallery of Photography, Dublin) will steer an open discussion with Amelia Stein.


Further Information
If you are experiencing difficulties while making a booking please email a request for ticket/s to: talksandlectures@imma.ie. You will receive notification of your booking by email. Or telephone: +353 1 612 9918.

For further information please contact Sophie Byrne, Assistant Curator: Education & Community Programmes, Tel: +353 1 612 9913, Email: sophie.byrne@imma.ie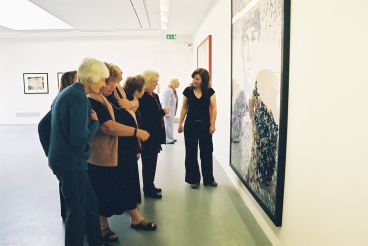 Please click

here to read IMMA's Terms & Conditions.