IMMA Online: New Developments
IMMA Virtual Tours
The following exhibitions, designed in collaboration with Vinylmatt, may currently be viewed online.

Please click on the title of the exhibition to view the Virtual Tour.

Twenty: Celebrating 20 Years of the Irish Museum of Modern Art
27 May to 16 October 2011

Les Levine: Mindful Media
23 March - 12 June 2011

Old Master Prints from the Madden / Arnholz Collection
23 March - 12 June 2011

Philip Taaffe: Anima Mundi
23 March - 12 June 2011

The Moderns: The Arts in Ireland from the 1900s to the 1970s
20 October 2010 - 3 April 2011

Altered Images
17 June - 15 August 2010

Ferran Garcia Sevilla
10 June - 5 September 2010

Carlos Garaioca
10 June - 5 September 2010

Collecting the New: Recent Acquisitions to the IMMA Collection
19 May - 8 August 2010
Virtual Museum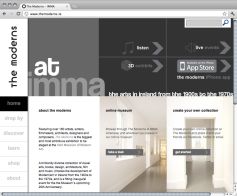 Following the highly successful exhibition The Moderns, which was shown at IMMA from October 2010 to April 2011, its content has been used as a template for developing a Virtual Museum. This initiative has been developed outside of IMMA by web design company Ebow and is an experimental endeavour whose design is independent of IMMA's input and requirements.
IMMA Collections Department has assisted this venture by obtaining copyright for the use of images. All such copyrights obtained are for The Moderns Virtual Museum template only and not for further use. IMMA is grateful to Vinylmatt who designed the virtual tour of The Moderns exhibition which provided Ebow with the content which they incorporated into their virtual museum design.
The initiative is funded by the Department of Arts, Heritage and the Gaeltacht.
To view The Moderns Virtual Museum please click

here

Back to Top
DECIPHER: Digital Environment for Cultural Interfaces; Promoting Heritage, Education and Research
IMMA is a partner in DECIPHER, a multimillion Euro online research project, supported by the European Union, to help people learn more about art collections in museums, galleries and other cultural institutions. The work will take three years (2011 – 2013) and will result in exciting new technology to enable cultural institutions and the public to present collections using narrative and story online. The research consortium is led by the DIT's Digital Media Centre, and IMMA is joined by fellow partners: the National Gallery of Ireland, Open University (UK), SSL (UK), BUT (Czech Republic), and Alinari 24 ORE SpA (Italy).


To visit the DECIPHER project website please click

here
To read the DECIPHER Blog please click

here


What Is_? Programme
The What Is_? Programme aims to provide an introduction to some of the key concepts and themes in modern and contemporary art for a general audience. The programme comprises talks, booklets and web-based resources.
The programme is presented in three phases:
Series 1: 1970–NOW Modern and Contemporary Art, Conceptual Art, New Media Art, Participatory and Relational Art, Installation Art, Public Art, Performance Art
Series 2: 1900–1970 [under development]
Series 3: Materials & Methodologies Photography, Drawing [under development]

Please click here for more informaton and to explore the What Is_Programme.