Top Navigation 1
1.2. About IMMA
1.3. Join & Support IMMA
1.4. Contact IMMA
Top Navigation 2

Left Navigation 3
3.1. Exhibitions
3.2. Collection
3.3. Search the IMMA Collection
3.4. Engagement and Learning
3.5. IMMA Residency Programme
3.5.1. Residents by Date
3.5.2. Residents by Name
3.5.3. Coming Soon
3.5.4. News 3.5.5. How We Programme
3.5.6. Public Access
3.5.7. Projects Archive
3.6. National Programme
3.7. IMMA Online: New Developments
3.8. Events at IMMA/RHK

Page Body
IMMA Residency Programme > Latest Opportunities and Developments
Apply Now
"Medium/ Platform/ System" ACW research and teaching residency in collaboration with MA/ MFA Art in the Contemporary World, National College of Art & Design, Dublin.
MA/ MFA Art in the Contemporary World, National College of Art & Design, Dublin in collaboration with the Irish Museum of Modern Art (IMMA) is now inviting applications for its autumn (2016) research and teaching residency.
This residency is open to writers, artists, curators, educators and other practitioners who have published writings in the field of contemporary art. It will begin around Oct. 2016, and have a duration of up to five weeks.
The selected applicant will be provided with a residential space at the Irish Museum of Modern Art and will receive a stipend. During this time they will be expected to deliver presentations on their own research interests in the context of the Art in the Contemporary World's Master's programme, as well as lead a number of seminars and conversations relating to the research residency's theme "Medium/ Platform/ System".
For more details on Art in the Contemporary World contact Francis Halsall halsallf@staff.ncad.ie and Declan Long: longd@staff.ncad.ie
Deadline for applications: Monday 30th May, 2016. All applications are to be made directly to NCAD.
For more information (including application procedures) on these opportunities and the research environment in the Faculty of Visual Culture at NCAD, visit: http://www.ncad.ie/postgraduate/school-of-visual-culture/postgraduate-scholarships/
____________________________________________
Deirdre O'Mahony - A Village Plot
As part of A Fair Residency
A Village Plot took place on Saturday 19th March 2016 at IMMA. It is a potato planting made by members of the Irish Loy Association who are experts in the making of potato ridges (lazy beds). These are an ideal way to convert urban lawns into vegetable plots and association members will demonstrate how to make the beds, reconfigured here as a decorative planting based on Margaret Stokes' illustration for The Cromlech on Howth, made during the Gaelic revival.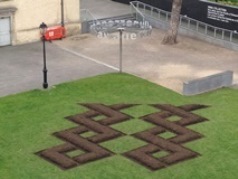 Two varieties of potato are being grown an Irish Heritage variety Bloomer, which has white scented flowers, and the blight resistant Sharpo Blue Danube which produces purple flowers; the colours of the suffragettes. Weather permitting the flowers will be blooming for the President's parade which concludes the 1916 celebrations on July 10th 2016. A Village Plot is part of SPUD project research by Deirdre O'Mahony for the IMMA and Grizedale arts residency programme.
Related links http://www.deirdre-omahony.ie/ and http://loyassociation.ie/
____________________________________________
Blogs from the Residency
Fulbright fellow Laurel Bradley on life as a temporary resident at IMMA "in a shifting community of artists, critics and writers who get to stay at the museum after the big iron gates swing shut" http://immablog.org/2015/12/10/living-at-imma-an-insiders-view/
A taste of Household Collective who make a meal of it at More Than One Maker
http://immablog.org/2015/08/26/making-a-meal-of-it-reflections-by-household-collective-at-imma/
3 Postcards by Antonia Low
http://immablog.org/2015/04/24/artists-voice-low-in-imma/
David Horvitz's dusk till dawn residency as part of EVA 2014
http://immablog.org/2014/08/12/last-stop-the-gravediggers-a-dusk-till-dawn-residency-at-imma/

Footer Navigation 4