Top Navigation 1
1.2. About IMMA
1.3. Support IMMA
1.4. Contact IMMA
Top Navigation 2

Left Navigation 3
3.1. Exhibitions
3.2. Collection
3.3. Education and Community
3.3.1. Book a Guided Tour
3.3.2. Talks, Lectures & Events
3.3.3. Schools Programme
3.3.4. Third Level Programme 3.3.5. Community, Family, Adults & Young People
3.3.6. Education Resources
3.3.7. Projects & Research
3.3.8. International Biannual Symposium 2008
3.3.9. What Is_? Programme
3.4. Artists' Residency Programme
3.5. National Programme
3.6. IMMA Online: New Developments
3.7. Events at IMMA

Page Body
Education and Community > Third Level Programme
Third Level Programme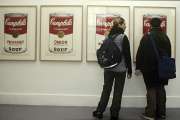 IMMA invites third-level students, tutors and lecturers to IMMA anytime during opening hours. Third level students, tutors and lecturers can visit a temporary exhibition or an exhibition of work from IMMAís Collection; book a specialised tour and/or gallery talk about aspects of the temporary or collection exhibitions; meet artists on the Artistsí Residency Programme; access resource material on artists and artworks featured in IMMAís Collection or book studio space for a post-gallery discussion or off-site project development.
EXHIBITIONS
The Museum's temporary exhibition programme regularly juxtaposes the work of leading, well-established figures with that of younger-generation artists to create a debate about the nature and function of art. These exhibitions usually last three to four months and up to four shows can be on view at any one time.

†Click here for current exhibitions

About the IMMA COLLECTION
IMMA is home to the National Collection of modern and contemporary art, with over 3,500 artworks by Irish and International artists.
†
The Collection is firmly rooted in the present and important new works are added to the Collection each year. Our collection of modern art is regularly enhanced by purchase, commission, donation or loan with a particular emphasis on work from the 1940s onwards.

†Click here for more on the Collection

TALKS AND LECTURES PROGRAMME
IMMA presents a wide-ranging programme of talks and lectues focusing on the diverse programme of temporary exhibitions, IMMAís Colleciton and aspects of the Education and Community Programme. The Talks and Lectures series provides a range of contextual information about artists and artworks featured in IMMAís exhibitions programmes and offers the public opportunities to intereact with artists, curators, critics and writers who discuss and debate. Events include small-scale gallery talks, keynote lectures, international symposia and once-off documentary screenings.

†Click here for more on Talks and Lectures
ARTISTSí RESIDENCY PROGRAMME (ARP)
The Museumís Artistsí Residency Programme is a studio / residency programme which provides opportunities for artists to research and develop their work practice, and is open to artists of all nationalities working in any medium, by application or invitation. The programme emphasises the working process rather than the finished product and enables artists to explore new ideas and ways of working in the context of the developing identity of the Museum and its various programmes.
Tutors and students can arrange to meet one or more of the artists resident in the Museumís studios. All visits to the ARP are free of charge but advance notice is required.

†Click here for more information on ARP
STUDIO AND WORKSHOP SPACE
Studio space is available for third-level and postgraduate students, lecturers and tutors to use for discussion and/or workshops. This might involve a one-off discussion following a gallery visit or the development of an on-site project.Use of studio/workshop space is contingent on lecturer/tutor facilitation and subject to availability.

To book please contact Lisa Moran, Curator: Education and Community Programmes tel: 01-612 9912 or email: lisa.moran@imma.ie
The Institute of Art, Design and Technology and the Irish Museum of Modern Art
The students from the 1st year BA (Hons.) in Visual Arts Practice course at the Institute of ARt, Design and Technology, Dun Laoghaire, in collaboration with the Irish Msueum of Modern Art, will be based in IMMA's studios undertaking research around 'the idea of place.'
For further information, you can contact IMMA: Lisa Moran, Curator Education and Community Programmes, lisa.moran@imma.ie†or IADT 1st year BA Visual Arts Practice Team: Laurence Riddell laurence.riddell@iadt.ie, Des Ward, Lynda Devenney lynda.devenney@iadt.ie†& Tim Lloyd (www.iadt.ie).
You can follow the work of the students online at http://1styrvapiadt.wetpaint.com/
Footer Navigation 4