Upcoming Talks and Events
Preview Lecture | Gerda Frömel
Thurs 9 April 2015, 5.30-6.15pm
Exhibition Curator Seán Kissane (IMMA) presents a lecture on his research for the first contemporary retrospective exhibition of works of Gerda Frömel presented at IMMA, and addresses how this presentation attempts to reinstate Frömel as a modern Irish master. Book here
Artist's Gallery Talk | Diogo Pimentão
Fri 10 April 2015, 1pm- 2pm
Diogo Pimentão demonstrates how his artworks of paper and graphite push the conventions and possibilities of drawing and sculpture. Book here.
IMMA Modern Master Series Symposium  Gerda Frömel - Reconstructing an Artist's Career
Friday 17 April 2015, 11am-3pm
Join a range of scholars, writers and enthusiasts on Gerda Frömel's work who will critically assess key developments of the artists' short yet prolific career. Book here / more info
See the full list of free talks and events
Easter Mid Term Art Workshops!
We have great free mid-term workshops for Teens with Dorothy Smith and the return of our popular Mornings at the Museum for families.
Visit Current Exhibitions - all free

IMMA Collection: Conversations

Teresa Hubbard / Alexander Birchler: Sound Speed Marker

The Beholder's Share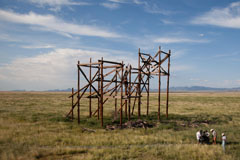 Teresa Hubbard / Alexander Birchler, Production still, Giant 2014,Photo Credit: Chris Austin, Courtesy of Tanya Bonakdar Gallery, New York and Lora Reynolds Gallery, Austin
Opening Soon

Gerda Frömel: A Retrospective

Diogo Pimentão: Disequilibrium Displacement
IMMA Limited Editions
IMMA creates a selection of strictly limited editions to coincide with many of the major exhibitions at IMMA. A great opportunity to own contemporary art at an affordable price tag, edition artists include Patrick Scott, Louis le Brocquy, Dorothy Cross, Linder, Gerard Byrne, Isobel Nolan and Isaac Julien. Browse the Collection.