Upcoming Talks and Events
Artist Talk & Preview
Jaki Irvine, If the Ground Should Open...
Thursday 22 Sept, 6pm
Jaki Irvine introduces her new work and discusses the ways in which the work, and the forthcoming live performance, experiments with the Canntaireachd oral traditions of bagpipe music and a spoken-sung score. Moderated by IMMA Director Sarah Glennie. Book here A drinks reception and exhibition preview follows this talk.
Art | Memory | Place: Artist Talk
Willie Doherty, Remains
Wed 28 Sept, 6.30-7.30pm
The artist Willie Doherty discusses ongoing themes of memory and place in his acclaimed lens based practice and in particular his 2013 work Remains, currently on view, currently on view as part of IMMA Collection: A Decade. Book here


Browse full list of Talks and Events
Job Opportunities
We are currently hiring in a number of departments. Read more >
What's On /
Sept 2016 - Jan 2017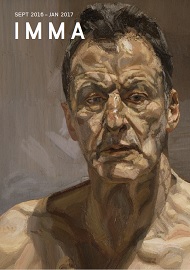 Download our new Events Calendar for Sept 2016 to Jan 2017
Visit Current Exhibitions
Jaki Irvine, If the Ground Should Open...
(23 Sep 2016- 15 Jan 2017)
The Plough and other stars: Invited Curator Kate Strain
(Until 26 Feb 2017)
Historica - Republican Aesthetics: Invited Curator Sumesh Sharma
(Until 26 Feb 2017)

IMMA Collection: A Decade
(Until 2017) 
Hennessy Art Fund for IMMA Collection
 (Until 2017) 
Programme Highlights 2016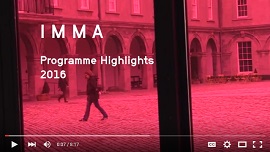 Watch IMMA Director Sarah Glennie & commissioned artists Duncan Campbell & Jaki Irvine talk about the 2016 Programme at IMMA.
IMMA Limited Editions
IMMA creates a selection of strictly limited editions to coincide with many of our major exhibitions. A great opportunity to own contemporary art at an affordable price tag, edition artists include Patrick Scott, Louis le Brocquy, Dorothy Cross, Linder, Gerard Byrne, Isobel Nolan, Isaac Julien and more.


Browse the IMMA Limited Editions.