Upcoming Talks and Events
Sunday 12 July – National Day of Commemoration
Visitors please note that due to the National Day of Commemoration taking place at IMMA on Sunday 12 July the Museum will open at 2pm on this date. IMMA apologies for any inconvenience caused.



Closing Conversation | Frances Morris
Post War Art and Existentialism
Sunday 5 July, 3-4pm
To mark the final day of the Gerda Frömel exhibition at IMMA, renowned art historian and curator Frances Morris (Director of Collection, International Art, Tate Modern, UK) reflects on her extensive research on post war art and examines how this time of vast turmoil and vigorous creativity continues to influence artistic practice of the last decades. Book here

Lunchtime Gallery Talk | Stan Douglas - Mise en Scène
Friday 17 July 2015, 1.15 - 2.00pm, West Wing Galleries, IMMA

Sean Kissane introduces a selection of works in the context of Douglas' photography and film practice. Book here

See the full list of free talks and events
What's On April - July 2015
Download our current Calendar of Events (pdf)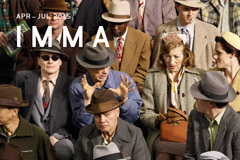 IMMA National Programme
IT'S YOUR CALL! F15 and IMMA'S Public Curation Project
Voting for IMMA and F15's public curation project is now open - have your say in selecting which artworks from the IMMA Collection will appear in the Foundation15 arts festival in September this year. Voting is open until 27 July, so get selecting NOW. And let us know your favourites from the 40-strong shortlist!
Visit Current Exhibitions - all free

Gerda Frömel: A Retrospective (Final Week)

Diogo Pimentão: Disequilibrium Displacement (Final Week)

More Than One Maker (Until 12 July)

Karla Black (Until 26 July)

IMMA Collection: Fragments (Until 26 July)

Etel Adnan (Until 12 September)

Stan Douglas: Mise en Scène (Until 20 September)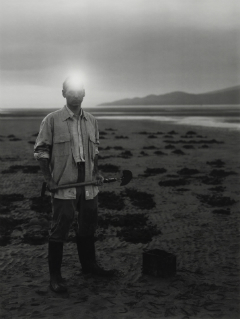 Stan Douglas, Worm Digger, 1949, 2011, Digital fiber print mounted on Dibond aluminum, 44 x 33 inches (111.8 x 83.8 cm), Courtesy the artist and David Zwirner, New York
IMMA Limited Editions
IMMA creates a selection of strictly limited editions to coincide with many of the major exhibitions at IMMA. A great opportunity to own contemporary art at an affordable price tag, edition artists include Patrick Scott, Louis le Brocquy, Dorothy Cross, Linder, Gerard Byrne, Isobel Nolan, Isaac Julien and more. Browse the IMMA Limited Editions.
Etel Adnan - Untitled (#213), 2013
Printed on the occasion of the exhibition Etel Adnan, you can purchase one of 100 limited edition prints available here.