Upcoming Talks and Events
Teresa Hubbard + Alexander Birchler
Sat 7 March, 2-3pm, Lecture Room | Free
Teresa Hubbard and Alexander Birchler discuss their exhibition Sound Speed Marker with curator Sean Kissane (Curator, Exhibition, IMMA). Book here.
Sarah Pierce + Gerard Byrne
Wed 25 March , 6.30-7.30pm, Lecture Room
Artists Sarah Pierce and Gerard Byrne will discuss past-tense fictions and ready-made dramas in response to the film processes of Teresa Hubbard/Alexander Birchler's collaborative practice. Book here.
Speaking Studios | Morgan Quaintance
Thur 12 March 2015, 7-8pm, the Chapel,
Current IMMA resident, Morgan Quaintance (UK writer and curator) invites creatives from Dublin's cultural scene to join him for a live pre-recorded episode of his radio show Studio Visit, broadcast weekly on London's Resonance 104.4FM. Guests will include Sibyl Montague (curator), Oisín O Brien/ Dan Tuomey (Independent Gallery Basic Space), Eimear Walshe (artist), Kerry Guinan (artist) and performances from singer Molly Garvey and writer Megan Nolan. Book here
See the full list of free talks and events
National Programme 

Portraits from The David Kronn Collection,   Butler Gallery, Kilkenny
Visit Current Exhibitions - all free

 TROVE: Dorothy Cross selects from the National Collections. Sponsored by BNP Paribas Ends Sun 8 March

Duncan Campbell

IMMA Collection: Conversations

Teresa Hubbard / Alexander Birchler: Sound Speed Marker.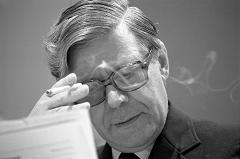 Bundesarchiv, B 145 Bild-FO48646-0030. Photo: Wegmann, Ludwig I 19. June 1976 Duncan Campbell, Arbeit (video still), 2011 Courtesy of the artist and Rodeo, Istanbul/London
IMMA Limited Editions
IMMA creates a selection of strictly limited editions to coincide with many of the major exhibitions at IMMA. A great opportunity to own contemporary art at an affordable price tag, edition artists include Patrick Scott, Louis le Brocquy, Dorothy Cross, Linder, Gerard Byrne, Isobel Nolan and Isaac Julien. Browse the Collection.