Upcoming Talks and Events
IMMA25 meets Sam Keogh
Wednesday 27 May, 6.30pm-7.30pm
Join IMMA25 as they speak with Sam Keogh about his residency at IMMA, his current show in the Douglas Hyde, and his engaging art practice across collage, drawing, sculpture, performance and installation. More info
Screening and Discussion with Stan Douglas
Wednesday 3 June, 6-8pm, Irish Film Institute
Presented by IFI + IMMA, Stan Douglas (photographer and filmmaker) and Walter D. Asmus (Theatre/film director and collaborator with Samuel Beckett) will consider Beckett's influence on cinema in a discussion moderated by exhibition curator Seamus Kealy (Director, Salzburger Kunstverein, Salzburg, Austria). More info
See the full list of free talks and events
SUMMER RISING - The IMMA Festival
4-14 June 2015
The hugely popular SUMMER RISING festival returns to IMMA with a 10 day line-up of art, music, food and performance events for all ages. Tickets for food and night-time events on sale now.  See the full programme here

What's On April - July 2015
Download our current Calendar of Events (pdf)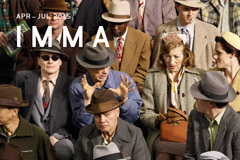 Visit Current Exhibitions - all free

IMMA Collection: Fragments 

Karla Black

Gerda Frömel: A Retrospective 

Diogo Pimentão: Disequilibrium Displacement
Opening soon:

More Than One Maker (28 May)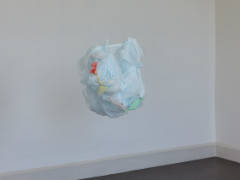 Karla Black, Installation view, Until, 2015, polythene, powder paint, plaster powder, thread, 64 x 55 x 44 cm. Courtesy the artist and Galerie Gisela Capitain, Cologne. © Karla Black, Photo: © Denis Mortell.
IMMA Limited Editions
IMMA creates a selection of strictly limited editions to coincide with many of the major exhibitions at IMMA. A great opportunity to own contemporary art at an affordable price tag, edition artists include Patrick Scott, Louis le Brocquy, Dorothy Cross, Linder, Gerard Byrne, Isobel Nolan and Isaac Julien. Browse the Collection.