Top Navigation 1
1.2. About IMMA
1.3. Support IMMA
1.4. Contact IMMA
Top Navigation 2

Left Navigation 3
About IMMA
1. Press Office
2. Heritage Programme
3. Events at IMMA
4. Job Opportunities
5. Tenders
6. Testimonials
7. Annual Report
8. Customer Charter
9. Sustaining Progress
10. Freedom of Information Act
11. Prompt Payment Quarterly Returns
12. National Development Plan
13. Privacy Policy
14. Terms and Conditions
15. Refund Policy


3.1. Exhibitions
3.2. Collection
3.3. Education and Community
3.4. Artists' Residency Programme
3.5. National Programme
3.6. IMMA Online: New Developments
3.7. Events at IMMA

Page Body
About IMMA
Irish Museum of Modern Art


Building and grounds


How IMMA was established


Legal Status/Funding


Profile of Director, Sarah Glennie


Board Members
The Museum's mission is to foster within society an awareness, understanding and involvement in the visual arts through policies and programmes which are excellent, innovative and inclusive.
The Irish Museum of Modern Art is Ireland's leading national institution for the collection and presentation of modern and contemporary art. The Museum presents a wide variety of art in a dynamic programme of exhibitions, which regularly includes bodies of work from its own Collection and its award-winning Education and Community Department. It also creates more widespread access to art and artists through its Studio and National programmes.
Building and grounds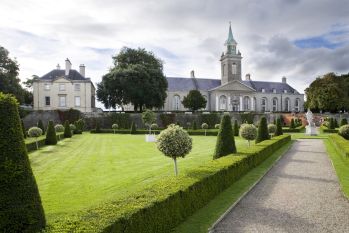 The Irish Museum of Modern Art is housed in the Royal Hospital Kilmainham, the finest 17th-century building in Ireland. The Royal Hospital was founded in 1684 by James Butler, Duke of Ormonde and Viceroy to Charles II, as a home for retired soldiers and continued in that use for almost 250 years. The style is based on Les Invalides in Paris with a formal facade and a large elegant courtyard. The Royal Hospital in Chelsea was completed two years later and also contains many similarities in style. The Royal Hospital Kilmainham was restored by the Government in 1984 and opened as the Irish Museum of Modern Art in May 1991. For further information on the heritage of the Royal Hospital Kilmainham please follow the link to the

Heritage Programme

IMMA - New Galleries and IMMA @ NCH at Earlsfort Terrace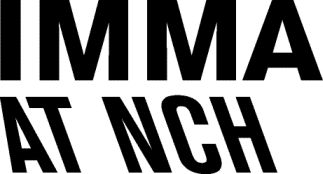 From 31 May 2012 the Irish Museum of Modern Art's exhibitions programme will be based in two separate locations – the New Galleries in the grounds of the Royal Hospital in Kilmainham and the ground floor exhibition spaces in the National Concert Hall building in Earlsfort Terrace, IMMA @ NCH at Earlsfort Terrace. The move to the NCH building is due to the extensive refurbishment works being carried out at the main building at the RHK throughout 2012. The main building at IMMA will be closed from 1 November 2011 until 31 December 2012. For further information please click

here
How IMMA was established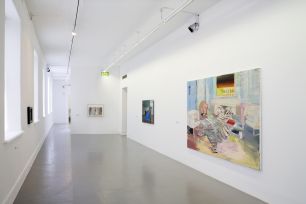 The Irish Museum of Modern Art was established by the Government of Ireland in 1990 as Ireland's first national institution for the presentation and collection of modern and contemporary art. The Museum was officially opened on 25 May 1991 by the, then Taoiseach Charles J Haughey. Since its opening the Museum has rapidly established itself as a significant and dynamic presence in the Irish and international arts arena. It is widely admired by its peers throughout the world for the range and relevance of its exhibitions, for its innovative use of its growing Collection, for its award-winning education and community programme and for its visitor-centred ethos and facilities.
IMMA has proved to be a valuable and popular addition to the country's cultural infrastructure, attracting more than 400,000 Irish and overseas visitors from diverse social backgrounds each year, both to the Museum itself and to events organised throughout Ireland by our National Programme.
Legal Status/Funding
The Museum is a company limited by guarantee and not having a share capital. The company is funded by grant-in-aid through the Department of Arts, Heritage and the Gaeltacht and by sponsorship, franchise and own resource income.
Profile of Director, Sarah Glennie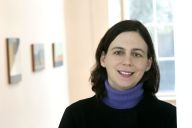 The new Director of IMMA is Sarah Glennie, currently Director of the Irish Film Institute. Sarah Glennie has been working professionally in the cultural realm for sixteen years and has extensive experience of directing and working in a number of public cultural institutions in Ireland and Britain. Prior to joining the Irish Film Institute (IFI) in 2008, where she oversaw a major redevelopment programme, she was Artistic Director of the Model Arts and Niland Gallery in Sligo. While there she initiated a nationally and internationally significant programme, including The Eternal Now: Warhol and the Factory and an exhibition and unique performance by Patti Smith. She has also curated many other notable visual art projects, both in Ireland and internationally.
Click

here for more information
Board Members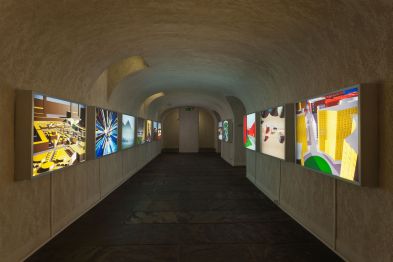 The Board consists of 14 members and a Chairperson appointed by the Minister for Arts, Heritage and the Gaeltacht for a period of not more than five years. At the discretion of the Minister, individual members may be asked to serve a second or subsequent term.
The members of the Board and the Chairperson are artists and other people with an active interest and/or expertise in modern and contemporary art. They are appointed in their capacity as individuals.
The following is a list of IMMA's current board member:
Eoin McGonigal, SC, Chairperson, appointed in February 2000 and reappointed in June 2005 and in July 2010. Appointed Chairperson in December 2001.
Eamon Delaney, appointed in May 2008.
Brendan Flynn, appointed in June 2005 and reappointed in January 2011.
Rowan Gillespie, appointed in January 2011.
Mary McCarthy, appointed in January 2011.
Brian McMahon, appointed in March 2009.
Dr Eimear O'Connor, appointed in February 2011.
Julie O'Neill, appointed in February 2010.
Brian Ranalow, appointed in June 2005 and reappointed in January 2011.
Only the Chairperson is eligible to receive a fee, set at €8,978, which he has waived. Expenses are paid to Board members in accordance with the guidelines and rules set down by the Department of Public Expenditure and Reform. Only vouched expenses are paid.

Footer Navigation 4